Legendary Sportscaster Reveals Why Michael Jordan Directed His Iconic Shrug Towards Magic Johnson in 1992 NBA Finals
Published 06/11/2021, 5:00 PM EDT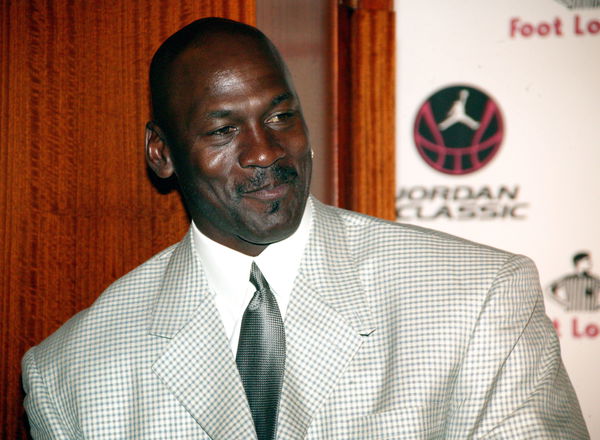 ---
---
In 1992, Michael Jordan led the Chicago Bulls to their second straight NBA Finals appearance. After defeating the Los Angeles Lakers in the previous season, they were now up against the Portland Trail Blazers.
ADVERTISEMENT
Article continues below this ad
The Last Dance already showed how Jordan took this series 'personally,' as he would say. Blazers star Clyde Drexler said he and Jordan were the two best players in the game, but Jordan did not enjoy these comparisons. So he entered the series eager to prove why he is levels above.
So in Game 1, he started with a bang, burying threes early in the game and this was followed by his iconic shrug. Legendary sportscaster Marv Albert revealed that the shrug was actually directed towards Magic Johnson, who was sitting beside Albert on the commentators table. Albert is also the voice behind the iconic "YES!" that came after Jordan hit his sixth three-pointer.
ADVERTISEMENT
Article continues below this ad
Albert said, "(Jordan) came out early to shoot threes. Then he hit six threes in the first half. He looked over to our broadcast table, and it was myself, the Czar (Mike Fratello), and Magic Johnson. And he shrunk his shoulders. The highlight we've seen so many times. He was looking at Magic like I don't believe I'm doing this."
In the Last Dance documentary, Magic reveals that a day before the Finals he and Jordan were playing cards together. So the shrug towards him could be a follow up to their conversation. Michael Jordan proves to Clyde Drexler why they are not the same
Michael Jordan is arguably the greatest player of all-time. While he never said it out loud, he wasn't amused when others compared themselves to him. So like in Drexler's case, he wanted to use the first opportunity itself to prove him otherwise.
ADVERTISEMENT
Article continues below this ad
Jordan put up 39 points in Game 1 of the 1992 NBA Finals against Drexler. At the same time, he held the Blazers star to just 16 points off 5-14 shooting. With this two-way excellence, Jordan showed that there is no one comparable to him. He was on a mission that night, and he continued it throughout the series, as he led the Bulls to a 4-2 win.
It was the second ring of his career, and a stepping stone in his path to become the best to ever play the sport.
ADVERTISEMENT
Article continues below this ad
WATCH STORY HERE – Michael Jordan's Most Entertaining Commercials