Lakers' Alex Caruso Explains Why Rajon Rondo Turns into Playoff Rondo During the Postseason
Published 01/29/2021, 12:30 PM EST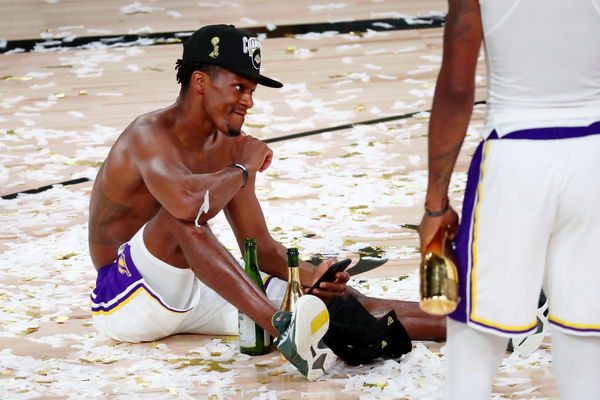 ---
---
The Los Angeles Lakers won the 2020 NBA championship, thanks to a team effort. LeBron James and Anthony Davis stepped up as the leaders, but it wouldn't have been possible without a lot of contributions from the other players.
ADVERTISEMENT
Article continues below this ad
One of the biggest contributors to their campaign was veteran Rajon Rondo. Throughout the regular season, he was inconsistent, but when playoffs began, he turned into an animal, bringing back the legend of 'Playoff Rondo.'
Recently, his former teammate Alex Caruso explained why Rondo turns up in the playoffs and not throughout the season. He said, "I 100% understand what (Playoff Rondo) is now. He's such a competitor. He's the most competitive person I've been around.
ADVERTISEMENT
Article continues below this ad
"After so many seasons in the league, playing so many regular-season games, all he wants to do is win championships. It doesn't matter until he gets to the playoffs anyway for him. Seeing him in his element and then come out play like that, it clicked to me."
Playoff Rondo returns to help the Lakers win the title
The myth of Playoff Rondo began due to his excellent postseason displays for the Celtics back in the day. He showed a glimpse of it during the 2018 Playoffs when he played for the Pelicans. But their team wasn't strong enough, and they eventually crashed out in the second round.
Two years later, he got a chance once again with the Lakers, and he proved his playoff prowess once again. In the regular season, he averaged 7.1 points, three rebounds, five assists, and 0.8 assists per game while shooting 41% from the field and 32% from three. In the playoffs, every single one of these stats went up.
ADVERTISEMENT
Article continues below this ad
During the 16 games he played in the 2020 playoffs, he averaged 8.9 points, 4.3 rebounds, 6.6 assists, and 1.4 steals per game while shooting 45% from the field, and 40% from three. Talk about showing up when it matters!
Every time LeBron was substituted, Rondo took over and orchestrated their offense. He was also a menace on defense and was continuously trying to disrupt the opposition's offense. His experience, leadership, and most importantly, his hustle was crucial for the Lakers, and without it, they wouldn't have won the title.
ADVERTISEMENT
Article continues below this ad