Lakers' Dennis Schroder Shows Off His Swanky Car Collection Featuring a Lamborghini Urus
Published 04/05/2021, 1:25 AM EDT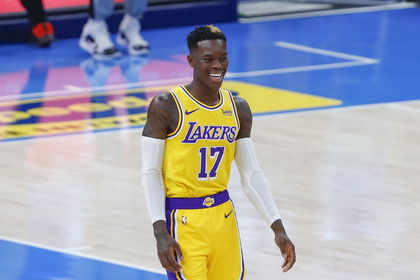 ---
---
NBA players grow up loving basketball, but outside the court, they have many other interests as well. Some have a swanky car collection, and Los Angeles Lakers star Dennis Schroder is one of them. During a recent YouTube video on his channel, he showed off his excellent collection.
ADVERTISEMENT
Article continues below this ad
The first car he shows in the video is a Cadillac Escalade. Schroder mentions he bought the car during his second year in Oklahoma City. He bought it for the family since it a big and comfortable to seat multiple members of a family. The German also added that he doesn't drive because of the LA traffic and has a driver named Alex.
The Escalade is a luxury SUV that was launched back in 1999. Schroder probably has the 2019 or 2020 edition, which ranges from $46,000 to $96,000.
ADVERTISEMENT
Article continues below this ad
The second car he showed was the Mercedes Benz G-Wagon. Another luxury SUV, Schroder said that he is going to send this car to Germany. He doesn't have a car back in his homeland. That's why he is planning to send it there so he can use it whenever he will be visiting.
The G-Wagon is a luxury and Sports SUV, which was launched back in 2002. It is priced from $130,000 onwards.
Lakers' Dennis Schroder shows off his final two cars
The third car in Schroder's collection was the Lamborghini Urus, which he says is his favorite car. He also said that it is his wife, Ellen's favorite car.
He bought it without informing her because he knew that she likes it as well. The Lakers guard said that the car was initially white, but they got it changed to a matte black color. He also complimented the car because it has "a nice sound."
The Urus is also a luxury SUV, and it is the most expensive car in Schroder's collection. It is priced from $230,000 onwards.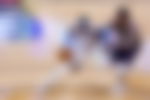 The final car in his collection is a Mercedes-Benz Sprinter, which he bought during his time in Atlanta. He praised the car for being comfortable and said that they use it when the whole family is here. He also showed off how every seat had his signature.
ADVERTISEMENT
Article continues below this ad
The Sprinter, like all of his other cars, is also an SUV, but it is a lot more affordable compared to the rest. The price range for it is from $4,00–$81,000.
And with that, his splashy collection comes to an end. In the final year of his four-year $70 million contract, Schroder can afford the best of automobiles and has built a solid luxury SUV collection.
ADVERTISEMENT
Article continues below this ad