Kyle Kuzma Raises Doubts of Lakers Closing Lineup with LeBron James and Anthony Davis Coming Back
Published 04/21/2021, 3:00 PM EDT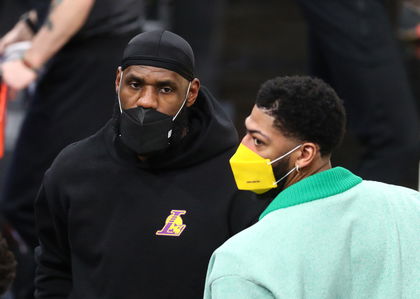 ---
---
The Los Angeles Lakers have been far from their best since the last couple of months. The injuries to LeBron James and Anthony Davis have hurt them a lot, and they are now in the fifth position in the Western Conference.
ADVERTISEMENT
Article continues below this ad
Their last game was 14 point loss to the Jazz, who endured late pressure to hold off the Lakers. That game was another reminder of the Lakers struggles late in the game.
During the post game interview, Kyle Kuzma had some worrying comments. He said, "We don't really know what a closing lineup looks for us this year at all. Obviously it's gonna be usually AD and Bron and then whoever's really hot, whoever's shooting, whoever's defending, three guards, whatever."
ADVERTISEMENT
Article continues below this ad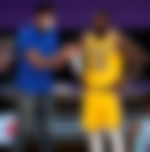 He also added that the lack of consistent playing time and multiple injuries have further increased the difficulty to determine the best lineup. So despite having a fair idea, they still cannot be sure.
"We kind of know the formula of what we want to get to with a healthy closing lineup. But that remains to be seen so far this year with not a lot of playing time and really cohesiveness and a consistent closing lineup.," he said.
Who will feature along with LeBron James and Anthony Davis in the Lakers' closing lineup?
The two names out of the five that are confirmed for the Lakers are LeBron and AD. That will be the easiest part for coach Frank Vogel. But after that, he has a ton of options. For his backcourt, he has Alex Caruso, Dennis Schroder, and Kentavious Caldwell-Pope as his options. He can also put LeBron as the point guard.
For his frontcourt, Vogel has LeBron, Davis, LeBron, Kuzma, Andre Drummond, and Montrezl Harrell. Those are some tough set of choices for any coach.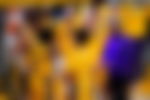 The most likely one will be Schroder, KCP, LeBron, AD, and Drummond. Aside from Drummond, the four of them started most games together and have looked like the most reliable lineup for Vogel. They could also potentially add Caruso instead of Drummond, which will give them more quickness and more defense.
ADVERTISEMENT
Article continues below this ad
There's also an outside chance that Harrell gets in for his rim protection, instead of Drummond, who is a considerably weaker defender. Being spoilt for choice might be fun for others, but coach Vogel will be racking his brains to find the best winning combination.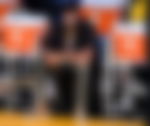 ADVERTISEMENT
Article continues below this ad