Lakers' LeBron James Jokes About 'Washed King' Tag After Another Missed Dunk Against Grizzlies
Published 02/13/2021, 5:00 AM EST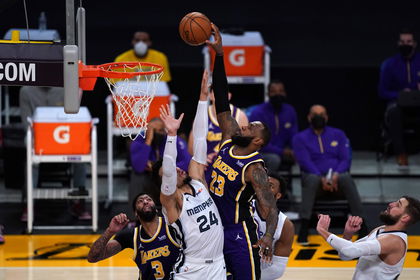 ---
---
The Los Angeles Lakers erased a 20 point deficit to beat the Memphis Grizzlies tonight. It was an emphatic comeback, led by the usual suspects, Anthony Davis and LeBron James.
ADVERTISEMENT
Article continues below this ad
Despite being 36 years old, LeBron's athleticism is still arguably the best in the league. He had an amazing cock back dunk during the second half, and Grizzlies' Grayson Allen was smart enough to move aside. While that was a breathtaking highlight, earlier he had a Shaqtin' a Fool moment.
ADVERTISEMENT
Article continues below this ad
He tried to posterize Dillon Brooks, but he surprisingly missed a potential dunk of the season. Former NBA champion Richard Jefferson said that he wanted to make a joke that LeBron needs to retire following that missed dunk.
After the game, Jefferson asked LeBron if everything is okay since he is missing so many dunks. "I don't know if everything is okay man," he replied while trying to control his laughter. "I think the washed king is really starting to catch up with me."
LeBron James reiterates the need to step up as a team
Once again, the Lakers had a terrible start to the game. They looked far from comfortable at home, as the Grizzlies started the game with a 22-2 run. The Lakers were stunned but somehow finished with the 31-16.
The second quarter was also tough, and the Grizzlies contested well, with the score being 59-46 at halftime. But they were back to business from the third quarter onwards and scored 41 points in those 12 minutes. The final quarter was just about maintaining their shape, and they did it well to win 115-105.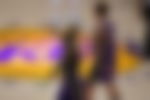 During the interview with Jefferson, LeBron expressed his discontent regarding these slow starts.
ADVERTISEMENT
Article continues below this ad
He said, "We've got to figure that out. We keep getting down in the first quarter. It takes a little while to get going. But we can't do that especially (against) good teams. So getting down 20 points on our home floor especially like that is not good ingredients for a championship team. We found a way to get it done, but we gotta be better than that for sure."
The Lakers' upcoming schedule includes games against the Nuggets, Nets, and the Heat. If they continue this trend against such teams, a comeback may not be possible later in the game.
ADVERTISEMENT
Article continues below this ad