Lakers' LeBron James Moves Way Ahead of Michael Jordan and Others in an Incredible Record
Published 02/16/2021, 10:02 PM EST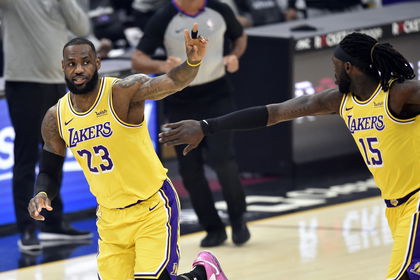 ---
---
Los Angeles Lakers star LeBron James is a beacon of consistency in the NBA. When all else fails, one can expect LeBron to do his bit, to help the team stand a chance at winning even in the worst of games.
ADVERTISEMENT
Article continues below this ad
Bron's record of consecutive double-digit scoring games is the best example of his consistency. Before him, Michael Jordan had set the previous record at 866 games. But tonight, LeBron reached 1024 games of scoring at least 10 points consecutively, a record that might never be shattered.
ADVERTISEMENT
Article continues below this ad
LeBron had 18 points by halftime against the Timberwolves tonight, as he extended his record. The absence of Anthony Davis hurt the Lakers in their last game, and it ended in a loss. So tonight, LeBron is on a mission right from the tip-off to help the Lakers come away with a win.
Will year 18 bear the same fortunes as the previous year for LeBron James?
After a four-season wait, LeBron won his fourth ring last season. It was his 10th NBA Finals appearance, which ties him for the third-highest along with Kareem Abdul-Jabbar. But instead of being praised for this achievement, LeBron has still received criticism for his Finals record, which is below .500.
But after he won the title, and got his record to 4-6, LeBron won't be bothered by what a select few people say. Throughout his career, he has been one of the most criticized players. That has only fueled him more and got the best out of him. He will aim to repeat last year's triumph this season as well.
Despite arguably having the most complete team on paper this season, the Lakers have had a few surprising losses to start the 2020-21 season. They have lost to the Pistons, Blazers, and the Spurs, all opponents that they should have easily handled.
ADVERTISEMENT
Article continues below this ad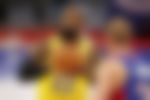 Their competition has also grown stronger this season. The Jazz have had a historic start to the season and comfortably look like the best team currently, while in the East, the 76ers and the Nets have risen to become threats as well.
When the postseason arrives, playoff LeBron will be called into action once again and will be expected to lead the Lakers to glory.
ADVERTISEMENT
Article continues below this ad