Former NBA Champion Reveals How He Rejected Miami Heat Big 3 to Team Up With Kobe Bryant
Published 05/13/2021, 11:30 AM EDT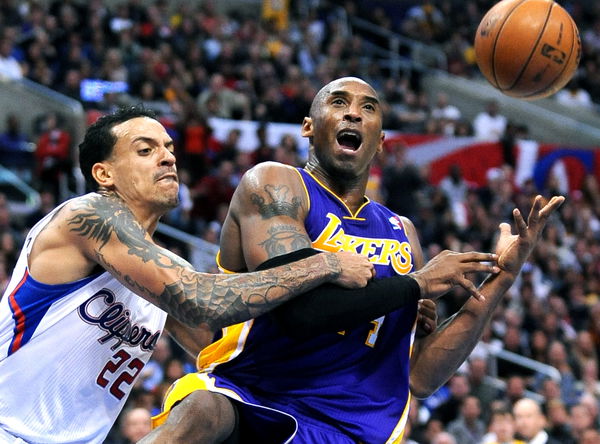 ---
---
The Los Angeles Lakers won the NBA title in 2009 and 2010, and wanted to go for the three-peat. Kobe Bryant had done it once before a few years ago and he felt he could do it again. So the Lakers wanted to become deeper and improve their depth, heading into the 2010-11 season.
ADVERTISEMENT
Article continues below this ad
They brought back Derek Fisher and Shannon Brown and added Steve Blake. But they needed another experienced forward on the team and the answer was Matt Barnes. It would have been a surprising name since just months earlier he had an on-court fight with Kobe. But it was the Black Mamba himself who wanted Barnes on board.
During his appearance on the Called Game podcast, Barnes revealed how Kobe surprised him with this recruitment in the summer of 2010. "I'm talking to DWade and Pat Riley. This is when they're putting the Big 3 together in Miami. All of a sudden I get a phone call from I number I don't even know. 'What's up? its Kobe'."
ADVERTISEMENT
Article continues below this ad
Barnes refused to believe initially, but later Kobe revealed why he called him. "Anyone crazy enough to f*ck with me is crazy enough to play with me. Do you wanna be a Laker?" Kobe asked Barnes. He had a simple response: "H*ll yeah!"
Matt Barnes couldn't say no to Kobe Bryant
ADVERTISEMENT
Article continues below this ad
Barnes was born in California and grew up rooting for the purple and gold. So there was no way he was going to refuse, even if it meant rejecting a chance to play with Dwyane Wade and LeBron James. He said, "I grew up a Magic Johnson Showtime Lakers fan. And arguably the greatest Laker of all-time is asking me to come play with him. Three or four days later I was a Laker."
In the previous season, Barnes and Bryant had an infamous fight when the Magic played the Lakers. Earlier on the podcast, Barnes explains how Kobe was going at him all game and playing dirty. But the refs didn't bother, which made Barnes angry. This led to the iconic Kobe not flinching incident.
ADVERTISEMENT
Article continues below this ad
Barnes was going to inbound the ball, and Kobe just stood right in front of him to intimidate him. Annoyed by these actions, Barnes pump-faked a pass in Bryant's face, who didn't flinch at all. That has become one of the most iconic Kobe memories for all fans. Unfortunately, their two-year partnership didn't lead to any success. But it definitely was a memorable stint for Barnes, who got to play with his boyhood team.