WATCH: Anthony Davis Crashes Russell Westbrook's Post-Game Interview With Brotherly Embrace
Published 04/28/2021, 11:05 PM EDT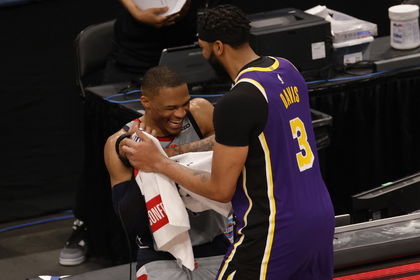 ---
---
The Los Angeles Lakers faced defeat at the hands of the Washington Wizards tonight. It was their fourth loss in the last five games, but there were still a few positives from this game. Especially Anthony Davis' improvement.
ADVERTISEMENT
Article continues below this ad
The Lakers superstar had a much better game after recent struggles, scoring 25 points while shooting an efficient 10-20 from the field. He shot 2-5 from three as well and also had three steals and two blocks. So in spite of the loss, Davis would be content with how he played. He was visibly in good spirits following the game, as he went over to congratulate Wizards' Russell Westbrook.
ADVERTISEMENT
Article continues below this ad
The Brodie was in the middle of an interview, but Davis didn't care about that. He interrupted and embraced him, which also looked like a brotherly ambush. They exchanged a few words, and later Westbrook was smiling as the interview resumed. "That's my brother man, AD. We've been friends for long," Russ said.
Back in 2017, AD had revealed that not only are he and Westbrook close, but also their parents. They also share the same agency and have been tight for years now.
Later in 2019, AD also joked about how he would never make similar fashion choices like Russ and would also fire his stylist.
Friendship with Russell Westbrook doesn't save Anthony Davis from an L
They may be friends off the court, but when they go head to head, there is no friendship. Tonight was the Lakers second matchup of the season against the Wizards, and the first for Davis. He had missed the previous game because of injury, and that ended in a loss for them. So fans were hoping his return to the lineup for this game meant a Lakers win. Sadly, that didn't go according to plan.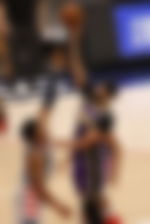 Westbrook had no mercy on Davis and the Lakers tonight, going for his 30th triple-double of the season. That helped the Wizards romp to a 116-107 win over the Lakers, and further hurt their chances of entering the top 4 of the Western Conference.
ADVERTISEMENT
Article continues below this ad
The only positive of the game would be AD's improvement and the form of Andre Drummond. The Lakers cannot dwell on these losses and have to take whatever positives they can, as they prepare to defend their title during the 2021 NBA playoffs.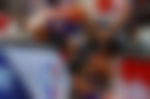 ADVERTISEMENT
Article continues below this ad