"With Me Every Day": Devin Booker Remembers Kobe Bryant As Suns Lead the Orlando Bubble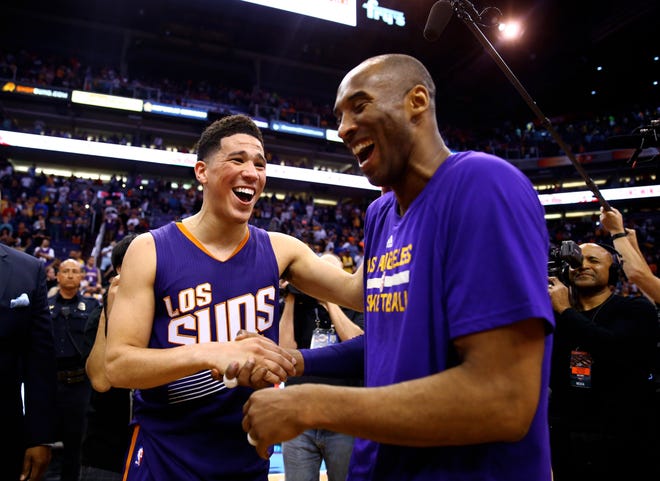 The Phoenix Suns were too hot to handle for the Indiana Pacers. Led by Devin Booker, the in-form team cruised to their fourth win out of four games. The Pacers were 3-0 prior to this game but the Suns just proved how determined they were with this win. Post-game, Devin Booker came in wearing a Kobe Bryant t-shirt and spoke about how the Lakers legend is still "with him" every day.
Booker said, "Kobe's with me every day. You guys see what I put on my shoes; to 'Be Legendary.' That's a reminder. Even without that reminder, it comes through 24 hours at least two-three times a day it crosses my mind."
Signed shoes w/message, "Be legendary" from Kobe Bryant to Booker #SunsVsLakers pic.twitter.com/v8bmT3Jkjs

— Craig Grialou (@CraigAZSports) March 24, 2016
Be Legendary ✍️ @DevinBook pic.twitter.com/xsyXUAy68V

— B/R Kicks (@brkicks) August 4, 2020
Devin Booker: Kobe's successor?
Back in 2016, after Bryant's final game against Phoenix, he praised Booker and passed the torch to him.
"I think the most important thing about my career is being able to pass it on and have the next generation of athletes embody the same spirit and learn some of the same techniques and have that same mindset," Bryant said. "Playing against Booker tonight, I mean he went straight to my move the first time he caught it. But it was absolutely great to see because I remember I did the same thing with MJ."
Booker has been turning it up in the bubble so far. He is averaging numbers Kobe would be proud of. 28 points, seven assists, while shooting 40% from beyond the arc. The most 'Kobe' thing he had done so far, was the game-winner against the Clippers. A classic fadeaway against two of the best defenders in the game, what better way to take home the victory.
Booker's scoring ability is just phenomenal. He is the only active player to have scored 70 points in a game. And with tonight's 20 point game, he had yet another record. It was the 200th 20-point game of his career. With that, he became the 6th youngest player in NBA history to accomplish the feat and the fastest in Suns franchise history (338 games).
The Suns are still a bit far from their playoff dream. Although the Grizzlies have started 04 and have tough games incoming, they also have to face strong opposition.
Their next game is against the Miami Heat on Saturday night, followed by a game against the OKC Thunder. If this young and spirited team can continue on this phenomenal run, they will experience their first playoffs since 2010.
Sources:
Devin Booker Hits Wild Game-Winner Over Paul George & Kawhi Leonard
Kobe Reflects on Rivalry with Suns, Impression on Devin Booker after Final Game in Phx
Devin Booker Talks Kobe Bryant's Impact On His Career After Suns Win
Get notified about breaking news and watch highlights on the go; join the Arena on NBA Hoops