Magic Johnson Reveals How Kobe Bryant Was Inspirational off the Court, Post Retirement
Published 11/06/2020, 8:30 AM EST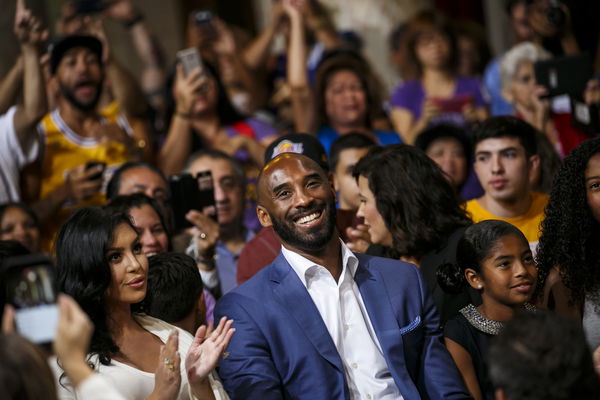 ---
---
During his playing career, Los Angeles Lakers legend Kobe Bryant was one of the best players in the league. And after he retired, he gave back so much, not just to the sport, but also to the community.
ADVERTISEMENT
Article continues below this ad
Recently, Kobe's close friend and fellow franchise legend, Magic Johnson, spoke about how their relationship was post-retirement and how Kobe did so much for society.
"We had so many great moments. Talking about business, life, being husbands, being fathers. I enjoyed every single moment just talking to Kobe. Also to see him enjoy retirement. See him be creative and create content, winning an Oscar. Doing the things he was able to do was amazing off the court."
ADVERTISEMENT
Article continues below this ad
Kobe Bryant: An inspiration
After a playing career that spanned two decades, Kobe hung up his sneakers in 2016. Since then, he was involved in many fields, like Magic mentioned. Two years back, he became the first NBA player to win an Academy Award, when his movie 'Dear Basketball' won the award for Best Animated Short Film during the 2018 Oscars.
Even after retiring, whenever he came to the Staples Center to catch a game, the crowd would go crazy. His animated conversations with Lakers star LeBron James from the sidelines captured the hearts of all Lakers fans.
From NBA hero to WNBA hero
Magic also spoke about how Kobe worked for women's basketball.
"And then working with women's sports, in terms of basketball players, training them, whether they were high school, college, or WNBA. Last but not least, giving back to homelessness. He wanted to make sure that he created housing for those who didn't have a house. God is so good for putting Kobe in my life so I thank Him for that."
ADVERTISEMENT
Article continues below this ad
A father of four daughters, Kobe was a pioneer for women's basketball. His approach to the sport influenced thousands to respect WNBA and women's basketball more. He was a coach for his late daughter Gianna's team, and the way he coached them was inspiring for everyone. He also worked with WNBA players like Sabrina Ionescu and helped them.
His death was a huge loss- to the NBA, the WNBA, and basketball as a whole.
ADVERTISEMENT
Article continues below this ad