Dallas Mavericks and Houston Rockets Set Record For The Season With No Defense In Sight
Published 07/31/2020, 11:29 PM EDT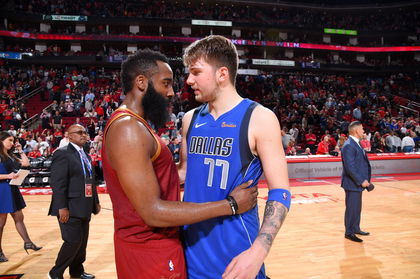 ---
---
The biggest Western Conference matchup of the day has been complete offensive entertainment. The Dallas Mavericks and the Houston Rockets have been trading buckets throughout the first half. The defense has been lacking for both teams, which has led to a season record. With a halftime score of 75-85 (in Dallas' favor), this game has seen the most combined first-half points in the 2019-20 season.
ADVERTISEMENT
Article continues below this ad
It is also the highest-scoring first half over the last 20 NBA seasons.
ADVERTISEMENT
Article continues below this ad
The Mavericks have been ballistic from beyond the arc. They have shot 11/20 from the three-point line so far, at a mindblowing 55%. Trey Burke and Tim Hardaway Jr have been the main contributors to it. Burke has been unstoppable, going 5/5 from three. Hardaway also has been phenomenal, going 4/6 from deep.

With the defensive coverage heavy on Luka Doncic, the Mavericks have made most of the open looks they have received. They have also been to the line 25 times, converting 21.
Are Dallas Mavericks trying to outscore the Rockets?
With an offensive rating of 117.52, the Mavs have the best offensive team rating of all-time. Naturally they are number one in the league. However, their defense has been lacklustre. They are ranked 17th in the league in defensive ratings. This is why they allowed the Rockets to score 75 in the first half.
They have been unable to stop James Harden, who has been torching them from all over the field. He made two three-pointers and was 7/8 from the field. He was also able to slice the defense on many occasions, and racked up five assists as well. Overall the Rockets were able to sink seven shots from deep with most of it coming from open looks.
The Mavericks need to step their defense up, if they want to challenege for the title. They cannot afford to always rely on outscoring their opponents. Going against teams like good defensive teams like the Lakers they will struggle with this approach. If they can channel some of their offensive energy into defense, they can be an even more dangerous team.
If the Mavericks end up winning this game, they could close the gap on the Rockets and the Thunder who are currently 1.5 games ahead of them. They next face the Suns on Sunday, and will be expecting nothing less than a win.
ADVERTISEMENT
Article continues below this ad
Sources:
Houston Rockets vs Dallas Mavericks
ADVERTISEMENT
Article continues below this ad