Magic Johnson Compares Kevin Durant to Kobe Bryant and Michael Jordan Following Epic Game 7 Performance
Published 06/22/2021, 1:06 AM EDT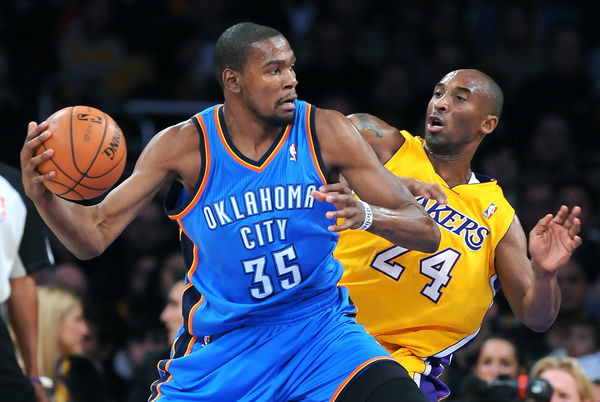 ---
---
The Brooklyn Nets are out of the 2021 NBA Playoffs, but they went out with a bang. Kevin Durant was the only healthy player left from the Big 3, and he had a majestic series despite the loss. His final game of the season wowed many fans, and also Hall of Famer Magic Johnson.
ADVERTISEMENT
Article continues below this ad
In a recent interview, Johnson spoke about how Durant's Game 7 performance was reminiscent of Kobe Bryant and Michael Jordan.
He said, "He showed me a Kobe Bryant, Michael Jordan-type performance. It reminded me of Michael Jordan against the Celtics when he got 60 and they lost. That same type of performance and everybody said, uh oh it's getting ready to be Michael Jordan's league. I think Kevin Durant put himself in that type of atmosphere with those type of players. Michael Jordan, Kobe Bryant…"
ADVERTISEMENT
Article continues below this ad
In just his second season in the NBA, Jordan scored an all-time NBA playoff record 63 points against the Celtics in the first round. Although it ended in a loss, it was a historic performance, and the record still stands.
Durant has often been termed as one of the greatest scorers, and the same goes for Kobe and MJ. So it is only fitting that KD should be in the same conversation as those two legends, when it comes to scoring.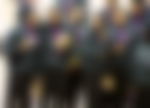 Can Kevin Durant inspire the Nets to an improved performance next season?
The Nets were the favorites to win the NBA title after acquiring James Harden. They started their playoffs on a good note with a 4-1 win over the Celtics. But Harden got injured in Game 1, and Kyrie Irving got injured in Game 4. Although Harden returned later, a win was never on the cards for them. They still came close and went all the way to overtime in Game 7, but unfortunately bowed out in the second round.
ADVERTISEMENT
Article continues below this ad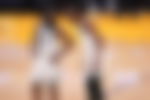 Entering next season, the Nets have a lot to do in the off-season. Six players are set to enter Free Agency, and they are already at $166 million in total salary. So they have to be wise with their spending, while creating a capable squad to compete next season.
If the Nets can keep themselves healthy, Durant and co will once again be among the top contenders, and will aim to improve from this season.
ADVERTISEMENT
Article continues below this ad
WATCH STORY HERE – Brooklyn Nets vs Milwaukee Bucks Game 7 WCSF Highlights