Bucks' Giannis Antetokounmpo Joins Hall of Famer Charles Barkley in Insane Record
Published 05/14/2021, 12:20 AM EDT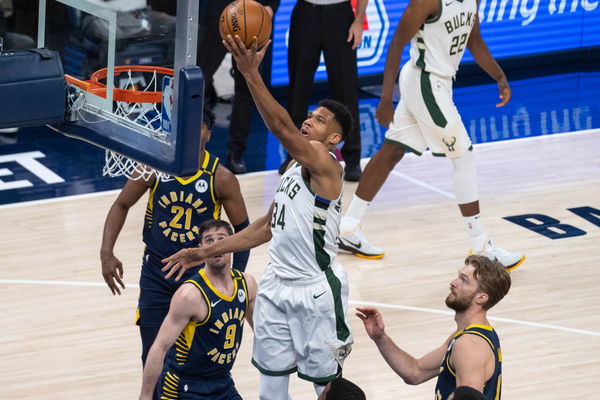 ---
---
The Milwaukee Bucks have been far from effective at the defensive end this season. But they don't have to worry a lot because they have Giannis Antetokounmpo who can bail them out by outscoring their opponents.
ADVERTISEMENT
Article continues below this ad
Tonight was a similar scenario. The Bucks faced the Pacers and although they gave up 133 points, Giannis led the Bucks to a 142-133 win.
He was at his dominant best during this high-scoring affair. He finished with 40 points and 15 rebounds while shooting an insane 14-18 from the field.
ADVERTISEMENT
Article continues below this ad
Following this impressive performance, he equalled a record previously set by Hall of Famer Charles Barkley. Antetokounmpo became the first player with 40 points, 15 rebounds, five assists and 75% shooting since Barkley did it back in 1988. Barkley is one of the greatest power forwards of all time and Giannis will definitely join him on that list once he retires.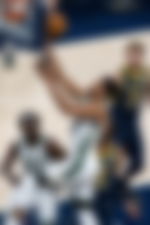 Giannis Antetokounmpo makes the Pacers look silly
A lot of fans criticize Giannis for just running and dunking. But if it was that easy to do it, every player would be doing it.
Giannis uses his athleticism perfectly to dominate his opponents in the paint. Tonight, he decimated the Pacers defense, and they were just helpless.
He missed just four shots all night and was also a menace on the glass. With his effort of 15 rebounds, he helped the Bucks out-rebound the Pacers by 11. There was no battle that the Pacers could win as long as Giannis was on the floor.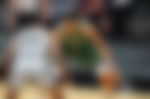 ADVERTISEMENT
Article continues below this ad
Can the Bucks push for the first seed or is it too late?
The Bucks are currently the third seed and are two games behind the 76ers. Both of them have two games left on their schedule and if the 76ers lose both and the Bucks win their two games, they will be tied. And in that scenario, the Bucks will go ahead because they have a superior head to head record.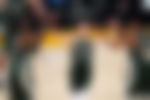 However, there is another team waiting to spoil the Bucks party. The Nets, who are one game ahead of the Bucks and one behind the 76ers, are also waiting to pounce. With the return of James Harden, they are likely to win their final two games of the season. So, they will be applying pressure too.
ADVERTISEMENT
Article continues below this ad
There is a good chance the 76ers hold on to their top spot since they have two easy games coming up. These last three days of the regular season are going to be intense, and fans will be excited to see how it pans out.