Bucks' Giannis Antetokounmpo Compares His Playoff Struggles to That of Michael Jordan
Published 12/18/2020, 11:29 AM EST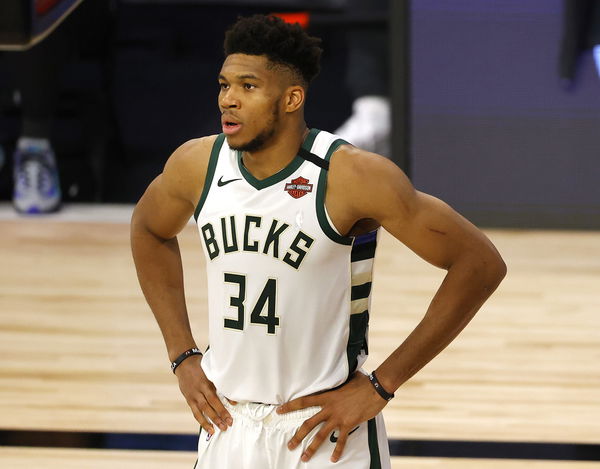 ---
---
Milwaukee Bucks star Giannis Antetokounmpo has proven himself on an individual level. He has won back-to-back MVPs and also bagged the DPOY last season. But the biggest hole in his resume currently is the lack of a championship.
ADVERTISEMENT
Article continues below this ad
The Bucks have had disappointing playoff runs for two years in a row now. Despite dominating in the regular season, they have been unable to replicate that in the postseason. But now the Greek Freak is ready to make a title run. During a recent interview, he compared his own struggles to Michael Jordan.
Giannis said, "One of the greatest players: Michael Jordan, his team got to the playoffs, and he got hurt, he got eliminated; he was disappointed. He went through the struggles. It's going to take time. We're working every day. To win a championship, that's the goal. I think we're doing the right things, creating the right habits, and working towards that goal."
ADVERTISEMENT
Article continues below this ad
Can Giannis Antetokounmpo put an end to the Bucks' playoff failures?
Jordan won his first ring at 27, but Giannis, who turned 26 just this month, has been criticized heavily for being unable to win the title. There is no doubt that the Bucks underperformed in the playoffs, but to blame it all on Giannis is unfair.
It caught many by surprise that he wanted to stay in Milwaukee despite these performances. But now that he has made up his mind, he will be very motivated to take his team to the promised land.
ADVERTISEMENT
Article continues below this ad
On an individual level, Giannis is working on improving his shortcomings, the major one being his shooting. He has been taking more shots and is slowly improving. The front office is doing its best to help Giannis and the team. They brought in Jrue Holiday in the off-season, and now Giannis has a solid third star on the team.
ADVERTISEMENT
Article continues below this ad
Holiday's skill set is perfect for the Bucks since they needed another capable ball-handler and outside shooter. This is the strongest team Giannis has got, and he will be expected to at least make a Finals run, if not win the title. The Lakers are the outright favorites, but the two-time MVP will be keen on beating the odds.