Bucks' Jrue Holiday Explains Difference in Playing Styles Between Anthony Davis and Giannis Antetokounmpo
Published 04/23/2021, 11:40 PM EDT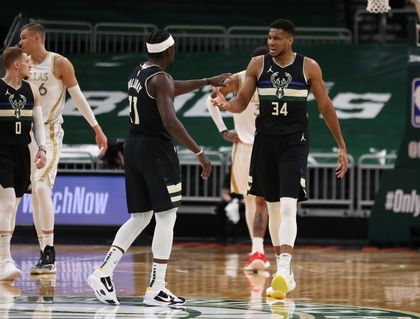 ---
---
Playing alongside an MVP always makes the game easier for any player. Milwaukee Bucks star Jrue Holiday is now playing alongside one in Giannis Antetokounmpo, and he is loving it.
ADVERTISEMENT
Article continues below this ad
Since the last eight years, Holiday has been playing alongside elite big men. Prior to Giannis, he played alongside Anthony Davis at New Orleans. Both of them are imposing in their own way and are two of the best players in the league. In a recent interview, Holiday explained the main difference between them.
He said, "Giannis is always downhill. That's one thing I feel is the difference between him and Anthony (Davis). Giannis puts pressure on people at the rim. Either I'm gonna get the charge or you're gonna get the foul. Most of the time, I'm Giannis Antetokounmpo, I'm MVP and DPOY, you're gonna get the foul.
ADVERTISEMENT
Article continues below this ad
"Anthony can go for 50, by shooting all midrange, offensive rebounds and stuff. The way that Giannis works is like a battery pack. He just never stopped coming at you." 
Giannis is arguably the best player in the league with rim running. When he charges in for a dunk, it is almost impossible to stop him. Davis, on the other hand, is a lot more technical. He has a smooth jump shot and also excels in the post.
Can Jrue Holiday help Giannis Antetokounmpo and the Bucks end their title wait?
In the last two seasons, the Bucks were the best team in the league. There was no stopping them in the regular season.
Giannis won the MVP in both of these seasons, and his campaign was the major reason behind their success. However, this success only extended to the regular season. They had an embarrassing second round exit in the 2019-20 season, and they lost in the Conference Final in the 2018-19 season.
This is why they added a third star in Holiday this season. He is arguably the best guard defender in the league, can help Giannis with playmaking duties, and is also a good shooter.
Finally, he also has a point to prove that he can help a team win a championship. So far in the regular season, Holiday has been a solid addition.
ADVERTISEMENT
Article continues below this ad
But the real challenge will be in the playoffs. Holiday will be hoping he can end the Bucks' 50 year wait for a title and win his first ring too.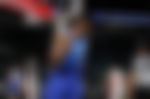 ADVERTISEMENT
Article continues below this ad