NBA All-Star: Best Friends Chris Paul and LeBron James Break Assists Records Together
Published 03/07/2021, 11:26 PM EST
---
---
A few weeks ago, Phoenix Suns star Chris Paul surpassed Oscar Robertson to become sixth all-time in career assists. Paul is one of the best playmakers the game has seen, and that stat is just a reminder. Tonight, during the NBA All-Star game, he continued being the Point God as he broke another record.
ADVERTISEMENT
Article continues below this ad
Hall of Famer Magic Johnson had the most assists in NBA All-Star history with 127. Paul entered the 2021 edition trailing by 15 and was only behind Johnson. In what was likely to be his final All-Star game, Paul knew it was now or never.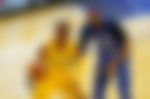 He started on a great note and had 12 assists by halftime. So, fans would have expected him to break Johnson's record by the second half. But the second half was a lot slower for him, and he was trying hard to get the record. One could see the irritation on his face when his passes were not being converted into buckets.
ADVERTISEMENT
Article continues below this ad
But then, in the final minutes of the game, Paul got his 16th assist of the game to successfully overtake Johnson. CP3 is now the all-time assists leader in NBA All-Star history, but will this record stay?
LeBron James creeping up to Chris Paul's NBA All-Star record
The Suns star played on Team LeBron after his close friend LeBron James drafted him into his team. LeBron barely played but Paul's impact helped them to get the win at the 2021 All-Star game.
Paul just got the assists record, but it is already in danger. James, another gifted playmaker, is creeping up to his record. He had four assists tonight as he overtook Isiah Thomas' record of 94. Bron is now the third-highest, just behind Johnson and Paul, but is still 31 away from Paul.
With his third assist of the game, LeBron James tied Isiah Thomas for the 3rd-most assists in ASG History (97).

Only Magic Johnson (127) and Chris Paul (112) entered the game with more. pic.twitter.com/yhMX8oxG4J

— ESPN Stats & Info (@ESPNStatsInfo) March 8, 2021
ADVERTISEMENT
Article continues below this ad
While Paul may not be an All-Star again, LeBron is likely to make it in every remaining year of his career. That could tally up to at least 3-4 more appearances and plenty of opportunities to come close and possibly overtake his friend.
They are arguably the best playmakers of the last two decades, and it is only right to see them at the top alongside other legends like Magic and Isiah Thomas. There is no other active player in the top 10, which means LeBron and CP3 are clear. They are likely to stay at the top until a new legend enters the game.
ADVERTISEMENT
Article continues below this ad