NBA Legend Dwyane Wade Has Special Message for Chris Bosh on Hall of Fame Nomination
Published 03/10/2021, 5:48 AM EST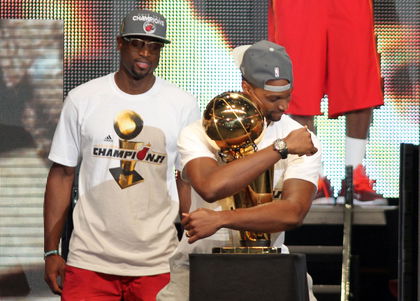 ---
---
The Naismith Memorial Basketball Hall of Fame has announced their finalists for the 2021 Class. Paul Pierce, Chris Webber, and Chris Bosh are the top names leading the list. Following Bosh's nomination, former Miami Heat teammate Dwyane Wade congratulated him on Instagram.
ADVERTISEMENT
Article continues below this ad
"Only a matter of time, brother. Happy for you," Wade wrote. The duo played together in Miami for six seasons. They also had four consecutive NBA Finals appearances, winning two of them. Those six years helped them to develop a close friendship, one that is still going strong.
ADVERTISEMENT
Article continues below this ad
Bosh was also nominated last year for the 2020 Class. However, it was always going to be tough to make it ahead of Kobe Bryant, Tim Duncan, and Kevin Garnett. While he has a lot of legendary players to beat this year as well, Bosh's contribution to the game is notable. An 11-time All-Star and two-time NBA champion, he is one of the most underrated players of his generation.
Wade defends Bosh following silly comparisons
Two weeks back, New York Knicks star Julius Randle earned his first All-Star nomination. His game style is similar to Bosh, and his numbers are similar to what Bosh achieved in his Raptors stint. This prompted comparisons between the two. After a while, it actually got serious and few fans felt Randle is better than Bosh was.
Wade had the perfect reply to such comparisons as he explained how 11-time All-Star Bosh was undoubtedly better, but at the same time he was respectful to Randle and what he has achieved. Bosh wasn't the most fancy or loud players, and Wade feels that is the reason why people don't give him the credit he deserves. "That's a dumb question," is how Wade ended.
ADVERTISEMENT
Article continues below this ad
Will Dwyane Wade follow in his teammate's footsteps in a few years?
After retiring in 2019, Wade won't be eligible for the Hall of Fame until 2023. But when his turn arrives, he is undoubtedly going to end as a first-ballot Hall of Famer alongside Dirk Nowitzki.
Recency bias often leads fans to only recollect his achievements with the Heat playing behind LeBron. But long before he arrived, Wade led the Heat to their first-ever title in 2005 and was one of the best players in the league for a span. He ended his career as a 13-time All-Star, a three-time NBA champion, and one of the best shooting guards to ever play.
ADVERTISEMENT
Article continues below this ad