NBA Players React to LeBron James and Lakers Winning Their First Playoff Game at Home Since 2012
Published 05/28/2021, 12:59 AM EDT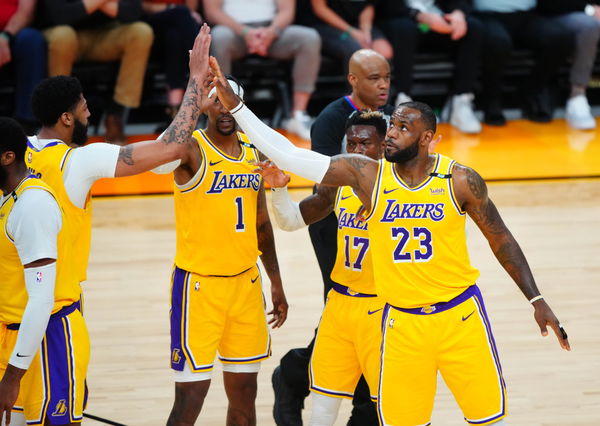 ---
---
The Los Angeles Lakers host the Phoenix Suns in Game 3 of their first round series tonight. They are playing their first playoff game at the Staples Center since 2013. And the players looked energetic right from the start with the home crowd cheering them on.
ADVERTISEMENT
Article continues below this ad
The first two games of the series were intense, and Game 3 wasn't any different. The Lakers and the Suns were going back and forth until the first half, but the Purple and Gold pulled away in the second half. Their superstars Anthony Davis and LeBron James showed why they are the best duo in the league with an amazing performance.
Fans and fellow NBA players were loving this performance, and many took to Twitter to talk about this game. Some of the players who tweeted about Bron and AD's performance were Kendrick Perkins, Jared Dudley, and Thon Maker.
ADVERTISEMENT
Article continues below this ad
Lakers win Game 3 following excellent displays from their stars
For the Lakers, Davis stepped up once again, resuming where he left in the last game. They did their best to feed him continually, and he led them in scoring again. He finished with a dominant stat line of 34 points and 11 rebounds, as he punished the Suns.
LeBron started the game strongly and opened the scoring for the Lakers. But after that, he moved to a pass-first mindset for the rest of the half and racked up turnovers.
The Lakers needed him to be more aggressive and take charge, and he did just that from the second half. When he plays bully ball, there is no one on the Suns who can guard him.
ADVERTISEMENT
Article continues below this ad
The Lakers won tonight despite shooting poorly. They shot an embarrassing 25% from three as a team and had a lot of poor shot taking.
But they made up for this with their paint domination. On the other end, their rugged defense and their hustle plays frustrated the Suns and that helped them to stay ahead.
ADVERTISEMENT
Article continues below this ad
Entering Game 4, the Lakers will hope to win another game in front of their home fans. They got a boost from them in Game 3, and Game 4 should be no different.