NBA Rumors: Top Three Teams Who Are Likely To Bring in Rockets' Veteran PJ Tucker
Published 03/09/2021, 2:49 PM EST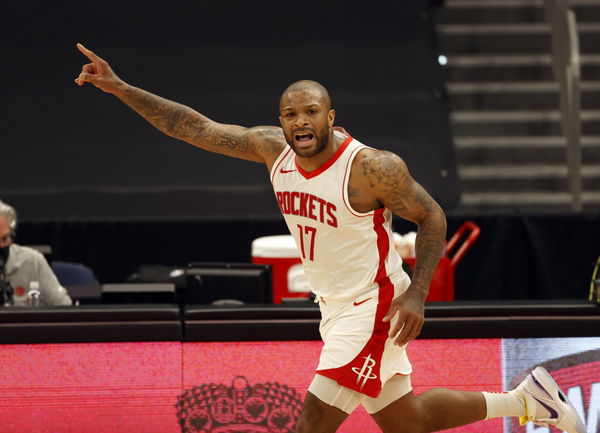 ---
---
The NBA's trade deadline is just two weeks away. As March 25 approaches, teams across the league will scramble to get their deals done. Playoff teams will be desperate to add pieces to solidify their campaigns, while selling teams will make the most out of it by gaining assets. The Houston Rockets will do the same as they look to shop their players, especially P. J. Tucker.
ADVERTISEMENT
Article continues below this ad
The veteran is going to be a free agent this summer. So the Rockets will hope to get something rather than let him go for free. Let's look at three teams who need him and can afford to bring him in.
Philadelphia 76ers
ADVERTISEMENT
Article continues below this ad
The number one team in the East, the Philadelphia 76ers are not messing around this season. They have been ridiculed for their poor playoff performances in the past. To avoid that, they should try to bring in a reliable veteran in Tucker. He is a solid 3&D guy and his leadership and versatility will be a huge help for the 76ers in their postseason campaign. Finally, Daryl Morey will also be eager for a reunion.

The 76ers will have to throw in Mike Scott and Terrance Ferguson to match the salaries, and throw in a second to appease the Rockets to get the deal done.
Miami Heat
After making it to the NBA Finals last season, the Miami Heat have been a shadow of themselves this year. They are just .500 right now and hold the sixth seed. Adding a player like Tucker will help them to boost their poor three-point shooting as a team and also give them defensive stability. The Heat should jump to bring him in to help revive their dismal campaign.

The Heat will have to part with two lower rotational players along with a second for this trade and they won't think twice about doing it.
Brooklyn Nets
ADVERTISEMENT
Article continues below this ad
When any player in the NBA is available these days, the Brooklyn Nets are the first team in talks to sign or trade for them. They have just signed Blake Griffin via waivers, and they are not done yet. Adding Tucker is perfect for the Nets. He provides the depth they need at the big man spot and brings in some much-needed defensive reinforcement.

Although he holds much value otherwise, Spencer Dinwiddie is currently injured and won't return before next season. The Nets need win-now players and Dinwiddie cannot do that.
ADVERTISEMENT
Article continues below this ad
There will be other teams interested in him too, but these seem like the three most likely options.