NBA Top Shot: LeBron James & Nikola Jokic Top Sales of the Day
Published 03/04/2021, 2:28 PM EST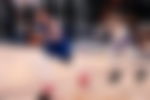 ---
---
The latest buzzword in the basketball community is NBA Top Shot. Since the last few weeks, this blockchain-based platform has been trending a lot, and its popularity is soaring by the day.
ADVERTISEMENT
Article continues below this ad
For people who haven't heard about it already, Top Shot is a blockchain-based platform where fans can buy, trade, and sell iconic highlights from the NBA.
The first question people have is why would someone pay for videos that are freely available on YouTube? But their argument is that trading cards can also be duplicated and sold, but it doesn't have value. Only the originals hold value.
ADVERTISEMENT
Article continues below this ad
Similarly, these highlights are hallmarked and are officially licensed. That is why they are valuable and people are hooked to it already.
This value is a lot more than what one could imagine. Among the most expensive sales in Top Shot yesterday, three were dunks from LeBron James. The most expensive one was sold for $39,999, while the others went over $30k as well.
Most expensive NBA Top Shot moments sold yesterday:

1. LeBron James dunk: $39,999
2. LeBron James dunk: $33,333
3. LeBron James dunk: $32,999
4. Nikola Jokic handles: $31,500 pic.twitter.com/TP3ytroid8

— HoopsHype (@hoopshype) March 4, 2021
Unsurprisingly, the top sales were LeBron's dunks, which have always been the most popular highlights over the years. Nikola Jokic coming in 4th shouldn't be a surprise either. He is currently having an MVP-worthy campaign and is one of the best players in the league. That makes his clips a top commodity in the market.
LeBron James' dunk sells for over $200k
Last week, a LeBron dunk from the 2019-20 season broke the Top Shot records. It became the most expensive Top Shot moment sold, going for a ridiculous $208,000.
👑ALL HAIL THE KING👑@YoDough scooped up this Legendary LeBron James Moment from our Cosmic Series 1 set for $208,000‼️ This Moment is from our first Legendary set ever minted 💯

The top acquisition for any NBA Top Shot Moment … so far.

Congrats on the nice pickup! 👑 pic.twitter.com/rFLMzbwXN7

— NBA Top Shot (@nba_topshot) February 22, 2021
ADVERTISEMENT
Article continues below this ad
It is one of LeBron's best dunks in the last two seasons, which came against Nemanja Bjelica. The Serbian tried to take a charge, but he paid a hefty price as LeBron dunked all over. It was a fierce poster, but not even LeBron would have imagined this clip would sell for such an amount.
NBA uses Top Shot to create hyped Rising Stars announcement
Since Top Shot is gaining more popularity by the day, the NBA is cashing in and making the most out of it. They used the platform to release the official rosters for the Rising Stars event for the upcoming All-Star weekend, and fans will already be eager to get their hands on the LaMelo Ball and the James Wiseman Top Shots.
ADVERTISEMENT
Article continues below this ad