'Nothing You Could Do': Former Lakers Star Describes the Challenges Behind Guarding Shaquille O'Neal
Published 04/20/2021, 11:28 PM EDT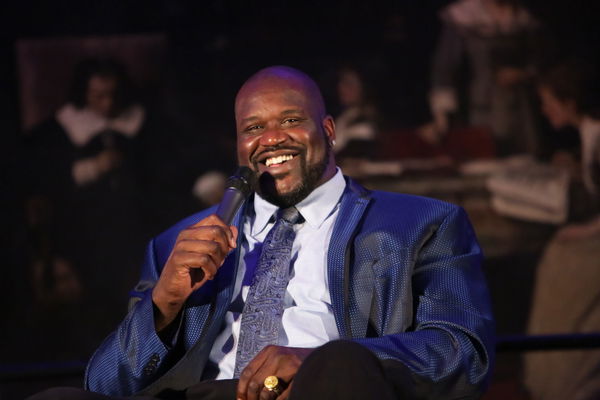 ---
---
Hall of Famer Shaquille O'Neal is one of the most dominant players of all time. While talking about his legacy, most people only talk about his Lakers three-peat days. But some of his best performances came in a Magic jersey.
ADVERTISEMENT
Article continues below this ad
In the 1992 NBA Draft, the Magic drafted Shaq with the first overall pick. He impressed them with his imposing performances with the LSU Tigers, and so the Magic had an easy decision to make. During his time in Orlando, Shaq was at his athletic best. According to former Lakers player Brian Grant, that was when Shaq was completely unguardable.
ADVERTISEMENT
Article continues below this ad
During a recent interview, Grant explained how it was a challenge to guard Shaq, especially during his Magic days.
He said, "To me, it was the ultimate challenge of testing myself to throw my fears away and just go out there and try to do what I could do against this big giant man. Before I'd take the court with him, guys knew not to mess with me because I was conjuring up stuff like, 'He wants to get my wife or he's talking about momma B.' Young Shaq that played on Orlando, there was nothing you could do about that because he was lean and quick."
When Shaquille O'Neal terrorized defenses in an Orlando Magic uniform
In his rookie season, Shaq averaged a ridiculous 23.4 points, 13.9 rebounds, and 3.5 blocks per game. Unsurprisingly, he won Rookie of the Year, but that wasn't the highlight of his rookie season. With his powerful dunks, Shaq broke two backboards and got fans off their seats. That forced the NBA to introduce breakaway rims.
ADVERTISEMENT
Article continues below this ad
When Shaq arrived in Orlando, they were only a two-year-old team trying to find their place. In just his second season with them, he took them to 50 wins but unfortunately couldn't make an impact in the playoffs. In the following season, he was determined to do better, and he did.
The 22-year-old led the Magic to 57 wins and all the way to the 1995 NBA Finals, including a series win over Michael Jordan and the Bulls. In the finals, they fell to Hakeem Olajuwon and the Rockets, but Shaq already proved himself with that run.
A year later, in 1996, Shaq was named among the NBA's 50 Greatest Players in history. At 24, he was the youngest member on the list, which is absurd. And that was only the start of his journey. Later, he won four NBA titles, an MVP, and a boatload of accolades which would place him in the all-time top 10 list of many NBA fans.
ADVERTISEMENT
Article continues below this ad