Devin Booker is carrying the Suns to the playoffs all alone. The young guard made his first all-star team this season on the back of his underperforming Phoenix team. Their record was close enough to get them invited to the bubble.
Most people counted them out of the playoff race, but the Suns have won their first three games in the restart. This includes two big wins over the Dallas Mavericks and now the Los Angeles Clippers.
The Suns beat the Clippers in the wake of a Devin Booker buzzer-beater. Booker hit a beautiful shot contested by both Paul George and Kawhi Leonard to give the Clippers their second loss in three games.
The guard has gained a reputation for being an aggressive scorer ever since he came into the league. Booker scored 70 points against the Boston Celtics in his sophomore season, which is the second-highest in the modern era.
This has obviously drawn comparisons to Kobe Bryant, the man who beat Booker's tally of 70 by 11 points.
Booker has come one shot within Kobe in a unique statistic. Booker hit a game-winning buzzer-beater while on more than 30 points for the third time in his career.
This means that Booker tied the likes of Clyde Drexler on a list of players with the same accomplishment. Booker is one shot away from the elite company of Michael Jordan, Larry Bird, and Kobe Bryant.
ALSO READ- Devin Booker Explains What Went Behind His Game-Winner Against the Clippers
Devin Booker hit a game-winning buzzer-beater to beat the Clippers yesterday and finished with 35 points.

It was the 3rd time in his career he scored 30+ and hit a game-winning buzzer-beater. The only players with more such games are Larry Bird, Kobe Bryant and Michael Jordan. pic.twitter.com/EqsHjsSZvL

— ESPN Stats & Info (@ESPNStatsInfo) August 5, 2020
Devin Booker and the Phoenix Suns in the bubble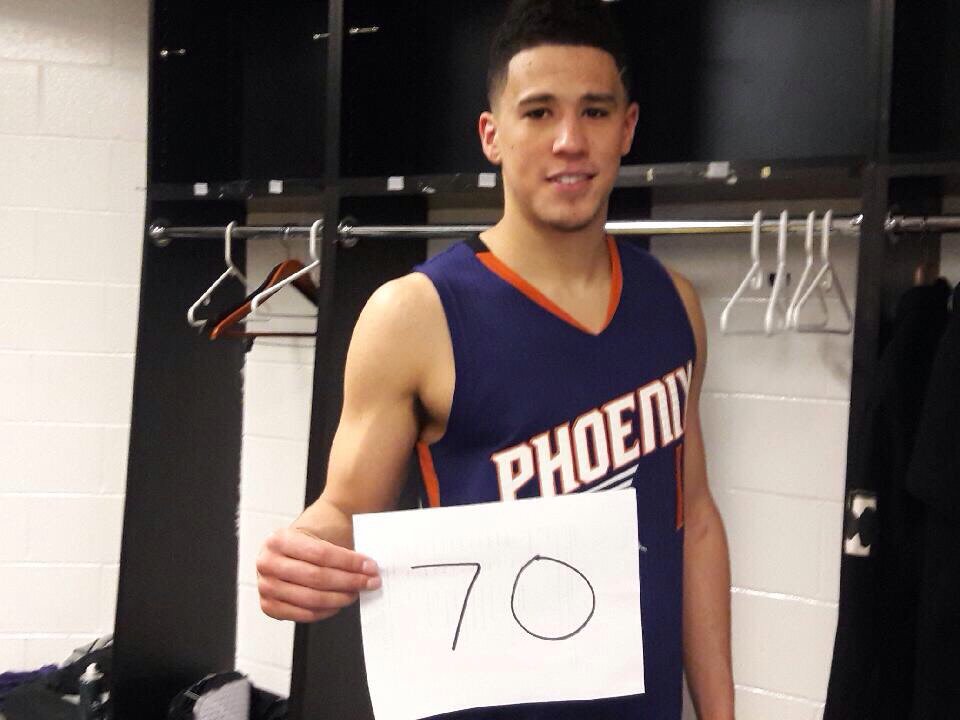 Devin Booker and the Phoenix Suns have become unlikely contenders for the eighth seed. With the Memphis Grizzlies losing Jaren Jackson Jr. to an injury, they could drop out of their spot.
Phoenix has to trump the surging Spurs and upset the Pelicans or Trailblazers. A tall task, but one that this team looks capable of.
Their next games feature opponents like Miami, Indiana, Philadelphia, and Dallas (a team they already beat). These are all teams outside the top three of each Conference, so they have a better shot at these opponents than competitors like Portland or Memphis.
Devin Booker is in inspired form and may finally see playoff basketball if he continues on this trajectory.
ALSO READ- Dallas Mavericks Head Coach Left Disappointed Following Their Unexpected Loss to The Phoenix Suns
SOURCE: ESPN Stats and Info- Twitter, NBA- YouTube