Former Coach Praises Warriors' James Wiseman For Being a 'Coach's Dream'
Published 12/24/2020, 5:45 AM EST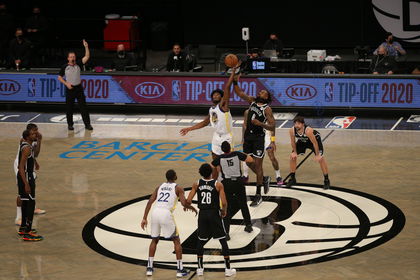 ---
---
The Golden State Warriors drafted James Wiseman with their second overall pick. Despite playing just three games in college, his potential and high school performances were enough to convince the Warriors.
ADVERTISEMENT
Article continues below this ad
During a recent interview, Wiseman's former Memphis Tigers coach and former NBA champion, Penny Hardaway, sang his praises and spoke about how he is a hard worker.
"James Wiseman is a kid that is a coach's dream because he's going to do exactly what you need him to do," Hardaway said. "He's the type of kid that puts his ego to the side and comes to you during practice (and asks), 'what do I need to do better?'
ADVERTISEMENT
Article continues below this ad
"At every water break, he's coming and asking that. After practice, (he says) 'let's work on my weaknesses.'"
Can James Wiseman live up to these expectations with the Warriors?
Hardaway later talked about how Wiseman will be a blessing to his team. He said, "He went to a blessed situation, to go to a veteran team in a veteran organization that wants to win right away. He's probably going to have his bumps and bruises, but he's not going to have competition problems. He's going to compete on a nightly basis.
"He is going to go out there and protect the rim. He is going to be dynamic, fast, and ultimately going to be willing to do whatever they need him to do. That's a blessing altogether."
When he arrived in Golden State, Wiseman was just an inside scorer. But as Hardaway mentioned, Wiseman has developed his skill set for the team. He has been working on his jump shot and also went 1-1 from three in his NBA debut. He also made two deep mid-range shots, showing off his clean jump shot.
ADVERTISEMENT
Article continues below this ad
Although he didn't have the best game on the defensive end, he is still adapting to the Warriors' system. As the season progresses, Wiseman will get better on both ends. The seven-footer can be an excellent floor spacer, and also an elite rim protector for the Warriors, something they have been lacking for a few years.
ADVERTISEMENT
Article continues below this ad