Lakers Assistant Coach Reveals "Unique" Call with Drake Following NBA Title Victory
Published 10/20/2020, 2:00 PM EDT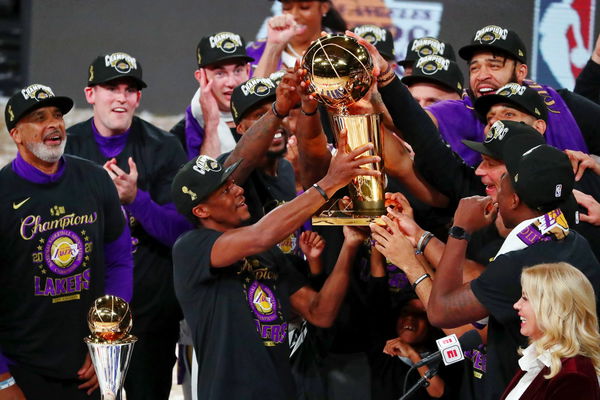 ---
---
After beating the Miami Heat in the NBA Finals, the Los Angeles Lakers were crowned champions. Players and coaches who had been away from their families immediately called them up, following the win.
ADVERTISEMENT
Article continues below this ad
Assistant coach Phil Handy said he had a "unique" call around this time. While speaking on The Green Room with Danny Green, Handy said:
"I always call my family but the weirdest one this year and I just happen to be standing beside Danny when I got a text message from a 647 number (Canada). I was like who is this. He texts back 'It's Drizzy' So right there I facetime him. Me and Danny, we sat there and chopped it up. Just talking about how much we miss Toronto… That one was a little unique this year, to be on the phone with Drake."
ADVERTISEMENT
Article continues below this ad
In the previous season, both Green and Handy were part of the Raptors. Handy had just joined as an assistant, while Green was part of the Kawhi Leonard trade. In their first season in Toronto, they won a ring when the Raptors beat the Warriors in the 2019 NBA Finals. That is when they developed a friendship with the rapper Drake, who is a celebrity fan of the team.
From Toronto Raptors to the LA Lakers: Two rings in two years
Finishing as the 2nd seed in the regular season, Green and the Raptors found themselves facing the inevitable Warriors in the Finals.
Luckily for them, Kevin Durant played 11 minutes in the whole series while Klay Thompson played just five games.  The Raptors did their job, as they took away the title, beating the Warriors 4-2, to win their first-ever title.
After finding success with the Raptors, Handy and Green found themselves on the same team for the 2019-20 season as well. Green joined the Lakers during Free Agency and signed a two-year deal. Handy joined Frank Vogel's staff as an assistant, joining forces with LeBron James, with whom he had worked at Cleveland.
ADVERTISEMENT
Article continues below this ad
With the Lakers, Green and Handy found even more dominance. The team finished as the #1 seed in the West, before stomping their opposition in the Western Conference. They set up a date with the Heat in the NBA Finals, and after six games, the Lakers were victorious.
Now, there have been rumors of Handy being linked to coaching vacancies with the Pelicans and the Nets. After finding success in two straight years, he might be looking for a new challenge.
ADVERTISEMENT
Article continues below this ad