Doc Rivers Speaks About Ben Simmons' Shooting Woes – 'If He Takes No Shots, I'm Fine'
Published 12/02/2020, 10:02 AM EST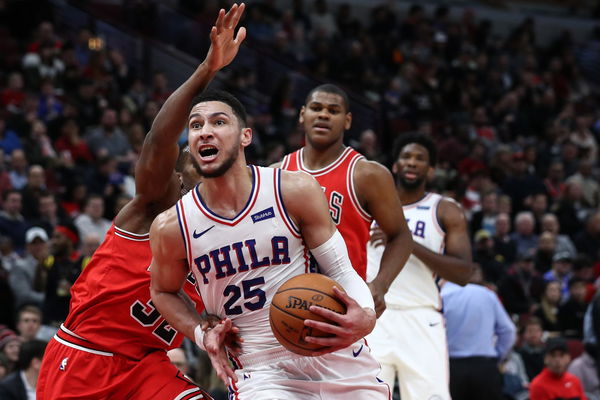 ---
---
The Philadelphia 76ers had a major overhaul in the front office in the 2020 off-season. They have a new front office and have had significant ins and outs to the team. The changes were made so that they could get the best out of their stars, Ben Simmons and Joel Embiid.
ADVERTISEMENT
Article continues below this ad
Throughout his career, Simmons has struggled with shooting. He has been excellent in other aspects, but critics choose to target him over his one obvious weakness. However, new coach Doc Rivers has no qualms about it. He says Simmons will be free in his new system, and will have the keys to it.
"I don't care about Ben's shooting as much as so many other people seem to care about it. I care that he's a great player and I'm gonna let him play. I'm gonna give him the keys and let him be free. If he takes no shots, I'm fine. If he takes 10 threes, I'm fine, if he gets to the line 15 times, I'm fine."
ADVERTISEMENT
Article continues below this ad
Can Doc Rivers get the best out of Ben Simmons?
In his three seasons so far, Simmons has proved he can be an excellent facilitator, defender, and slasher. He finished as one of the top candidates for the Defensive Player of the Year award last season. He also averaged 8.0 assists per game, and only five players had similar or better numbers. So there is no doubt about the quality.
This is why Rivers says he can afford to let Simmons do his thing, but he just has one demand from the Australian.
ADVERTISEMENT
Article continues below this ad
He said, "Ben is brilliant enough for me to allow him to play and not get in his way and try to cloud his head with a bunch of crap. It's about winning, and that's what I want Ben to focus on. How to make each other better."
The 76ers have got a team that complements him well, with the addition of proven shooters like Seth Curry and Danny Green. So this could be a big season for the two-time All-Star. If Rivers can find a way to get the best out of Simmons and Embiid, the 76ers can have a promising run in the playoffs.
ADVERTISEMENT
Article continues below this ad