76ers' Joel Embiid Calls Out NBA Officials for Not Ejecting LeBron James After a 'Very Dangerous' Play
Published 01/27/2021, 11:47 PM EST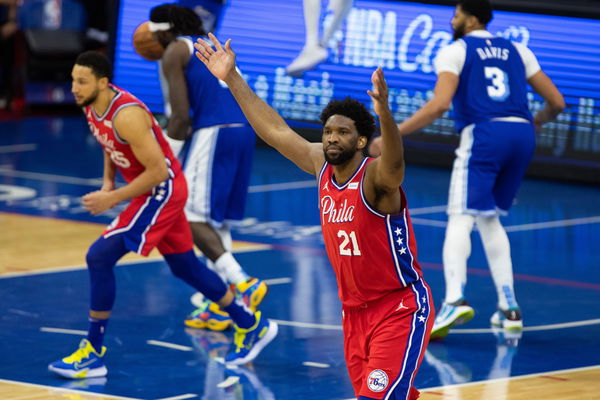 ---
---
The Philadelphia 76ers are not messing around this season. Sitting at the top of the Eastern Conference, they asserted their status as contenders tonight. Joel Embiid also reminded the league that he is a leading MVP candidate for a reason.
ADVERTISEMENT
Article continues below this ad
During the third quarter, he almost got injured. As he stepped in for a dunk on LeBron James, the Lakers star shoved him. Embiid fell awkwardly on his back and was wincing in pain. He stayed on the ground for some time but eventually continued playing. LeBron got away with a Flagrant 1, and Embiid feels it would have been an ejection if the roles were reversed.
"You look at it, that's a very dangerous play, and I guarantee if it was me I would have probably been ejected from the game," he said during the post-game interview. He felt it should have been a Flagrant 2, but the referees weren't on the same page.
ADVERTISEMENT
Article continues below this ad
Can Joel Embiid help the 76ers maintain this momentum?
The 76ers started the season with a dominant 7-1 run. One might say that the teams they faced were struggling, but the 76ers left nothing to chance and pummelled through them.
However, three losses in a row against the Nets, Nuggets, and Hawks halted this run. They picked up the momentum once again, but in Embiid's absence, they lost to the lowly Pistons in their last game. That result highlighted how important he is for the team's success.
He has played 15 games so far, and the 76ers have only lost twice in those games. But they were missing other starters in those games. When all five of their main starters have played, the 76ers are 10-0. Tonight, this starting five also gave the Lakers their first road loss of the season, after they were 10-0 away from home.
ADVERTISEMENT
Article continues below this ad
After the game, LeBron commended the 76ers for their solid roster. "I think it's a really good team they put together," he said.
ADVERTISEMENT
Article continues below this ad
The regular season has been amazing for them so far, but the 76ers' weakness has been their playoff woes. If they can carry this momentum throughout the season, and into the postseason as well, then they will be one of the favorites to bring home the Larry O'Brien trophy.
Trending Stories