'Playing MVP Basketball': Hall of Famer Oscar Robertson Heaps Praise on Wizards' Russell Westbrook
Published 05/01/2021, 2:50 PM EDT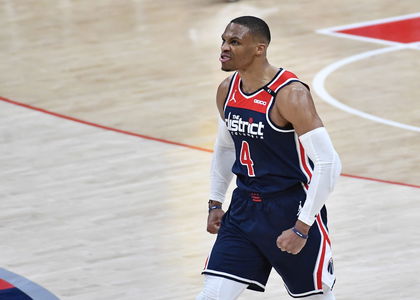 ---
---
Washington Wizards star Russell Westbrook is one of the most criticized players in the league. In spite of playing at the highest level for many years, his lack of postseason success is scrutinized a lot.
ADVERTISEMENT
Article continues below this ad
While fans may not give him the respect he deserves, Hall of Famer Oscar Robertson recently broke this norm. During a podcast, Peter Vecsey asked Robertson about Westbrook and if he would break Robertson's triple double record.
"I think he will (pass me)," Robertson said. "I'll be glad when he does, because he's a tremendous basketball player and athlete. I think it's really something that sports writers are getting on him, saying he didn't do this, he didn't win a championship. All the kid is doing is playing MVP basketball every night."
ADVERTISEMENT
Article continues below this ad
Russell Westbrook needs 5 triple-doubles to pass Oscar Robertson for the all-time record.

The Wizards have 9 games remaining.

It's happening. pic.twitter.com/9T2lrslNBs

— StatMuse (@statmuse) May 1, 2021
Westbrook is famous for his triple-doubles, but the Big O was the original triple-double king. He finished his career with 181 TDs and now Westbrook is just five away from eclipsing this record. Robertson is aware it is bound to happen, but he is also happy for him.
The biggest praise that Robertson bestowed on him is the "MVP basketball" comment. If a Hall of Famer believes he is playing at an MVP level, no amount of fan criticism can surpass that.
Russell Westbrook has a humble response to Oscar Robertson
The Wizards beat the Cavaliers last night with Westbrook recording another triple double. During the post game interview, he was asked informed about Robertson's comments on him. Westbrook replied, "It's truly an honor, man. It's something that honestly I don't take for granted."
ADVERTISEMENT
Article continues below this ad
Westbrook is a victim of a lot of double standards by critics. He is called a stat padder whenever he gets triple doubles, but when other players do the same, they are appreciated for it. When he gets 10+ assists, they call him a ball hog. But when LeBron James does the same, he is called a great playmaker. If Russ gets 10+ rebounds, critics feel he steals rebounds, while other guards get appreciation if they achieve this.
He has set his own standards so high after his MVP season critics demand more, no matter what he does. And if he still proves them wrong, all they can do is point out the absence of a ring. It is sad that an all-time great gets such treatment, but Westbrook will still be happy knowing that his colleagues and Hall of Famers believe in him.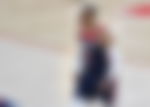 ADVERTISEMENT
Article continues below this ad