Blazers' Carmelo Anthony Explains How He Learnt The Mamba Mentality from Kobe Bryant
Published 01/23/2021, 10:00 AM EST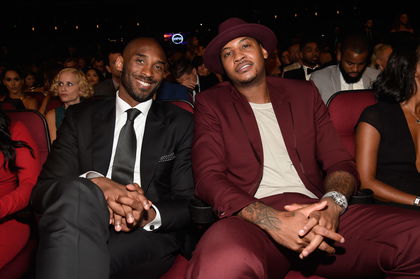 ---
---
Player across the league are remembering Kobe Bryant as we are nearing his first death anniversary. Many of them have shared what they learned from him and how he shaped their careers. Likewise, Portland Trail Blazers veteran Carmelo Anthony spoke about what he loved the most in Kobe and what he learned from the Mamba.
ADVERTISEMENT
Article continues below this ad
He said, "The most important thing about Kobe for me was his approach and his mentality. His game speaks for itself. He called it the Mamba Mentality. That's something that's going to be here for a long, long time."
"It's a mindset I think that's what I took from him. How to change your mindset, how to approach it, how to become self-motivated, what makes you tick."
ADVERTISEMENT
Article continues below this ad
This Mamba Mentality is what drove Kobe to greatness. That's why players still try to learn from him, as they aim to carve out their own path towards greatness.
Kobe Bryant and Carmelo Anthony's battles over the years
After being drafted in 2003, Melo immediately established himself as a talented scorer. He played for the Denver Nuggets who were one of the Lakers' rivals, and this led to many remarkable battles between them. But the most memorable series they had was in 2009 when the Lakers met the Nuggets in the Western Conference Finals.
In Game 1, Melo dropped 39 points, while Kobe had 40. They went at each other throughout the game and showed off their unmatchable scoring prowess. But the former Nuggets star was more efficient and led his team to a narrow two-point win.
ADVERTISEMENT
Article continues below this ad
Game 2 was fireworks once again, as the pair traded 30-point bombs, and the Nuggets came out on top once again. But Game 3 onwards, Kobe and the Lakers took over and won four games in a row to win the series 4-2. Kobe averaged 34 points per game in that series and took the Lakers to the NBA Finals.
In a couple of years, Melo had moved to New York, but they still had one last memorable encounter before Kobe retired. The Lakers faced the Knicks on a classic Christmas Day encounter in 2012, and both Kobe and Melo scored 34 points each. It was a scintillating game, as the Lakers won by four points.
ADVERTISEMENT
Article continues below this ad
Melo is now probably in his last season in the league but will aim to do his best and channel his inner Mamba for the Blazers.