Blazers' CJ McCollum Praises Warriors' Stephen Curry and Draymond Green For Their Chemistry
Published 02/16/2021, 10:30 AM EST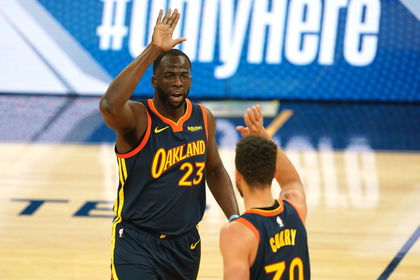 ---
---
The Golden State Warriors won their 15th game of the season last night. It was once again the Draymond Green and Stephen Curry show, as they led the Warriors to a fantastic 31-point blowout win over the Cavaliers.
ADVERTISEMENT
Article continues below this ad
This is now the eighth season they are playing together. All these years helped them to develop amazing on-court chemistry, which has been at the heart of the Warriors' success.
Last night, this chemistry was on full display, as Draymond and Stephen killed the Cavaliers with their passing, pick and roll, and their three-point barrage. Trail Blazers star CJ McCollum took to Twitter to praise this chemistry. He replied to a video of Draymond setting a screen for Curry.
ADVERTISEMENT
Article continues below this ad
In the video, Curry is slyly pointing to how he wants the screen. Draymond waits for the right moment, before handing the ball over to Curry, and giving him a rock-solid screen. Green's movement caught his defender off-guard too, as Jarrett Allen was merely a spectator to the Warriors pick and pop action.
Warriors' Draymond Green and Stephen Curry: Best duo in the league?
In the tweet McCollum replied to, Draymond set a smart screen for Curry. But just a minute later, Curry returned the favor. As Draymond dribbled into the half court, Curry waited a few seconds, before dragging his own defender out of the path and setting a magnet screen for Draymond. That gave him a free path to the rim, and easy two points via the dunk.
Warriors forward Juan Toscano-Anderson perfectly sums up their chemistry. He said, "It's beautiful basketball. I'm out there smiling, laughing, like, 'how do you guard that?' … their game reads are on a different level … I'm a super fan of the game of basketball, this is art to me."
ADVERTISEMENT
Article continues below this ad
Not only is it enjoyable to watch, but this is also getting them results. At the start of the season, the Warriors were struggling to get their offense going. Draymond was out with injury during that time. But once he returned to the team, he started orchestrating their offense, and defense well, and helped them get back on track.
The Warriors are now in the ninth position, as they fight to return to the playoffs once again.
ADVERTISEMENT
Article continues below this ad