Throwback: When Rookie Damian Lillard Earned Respect From NBA Legend Kobe Bryant
Published 08/09/2020, 11:24 PM EDT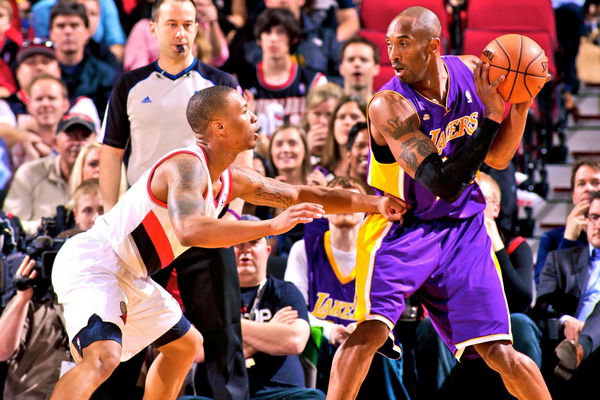 How does one make up for missing potentially game-winning free throws? For Damian Lillard, the answer is dropping 50 in the next game. After a bad finish to the Clippers game, Lillard went ballistic against the Philadelphia 76ers. He scored 51 points and had seven assists as the Trail Blazers pipped the 76ers 124-121. After this monster game, he is averaging 33 points per game in the bubble.
ADVERTISEMENT
Article continues below this ad
Currently, in his eighth season in the league, there was never any doubt about his talent. In 2013, he won Rookie of the Year, ahead of Anthony Davis and Bradley Beal. And during that rookie season, he also earned the respect from Kobe Bryant.
When they faced each other in April 2013, the two of them went at each other the whole game. Kobe ended with 47 points, eight rebounds while Dame scored 39 points and had nine assists. Post-game, Bryant was in awe of Lillard and couldn't help but praise him.
"That boy is serious", Bryant said. "He's not afraid of anything. He's got the whole package: he's got the three-ball, he's got the mid-range, get on to the rim obviously. And we just had to go get him (on defense)."
Kobe Bryant salutes Damian Lillard
Later, Bryant took to Twitter to praise him again. Lillard replied and showed his respect for the five-time NBA champion.
Since then, Lillard has emerged as a killer on the court. A lot of players have adopted the Mamba Mentality from Bryant but nobody lives by it like Lillard. He has the clutch ability like Kobe, but the main similarity is their drive. Lillard fears no one on the court and shows out every night like it's his last game.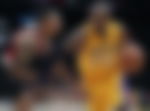 Kobe had once said he doesn't have friends but he has "like minds." Similarly, Lillard doesn't really have any friends on the court. He comes in, dazzles, leaves. This is what impressed Bryant. During the 2014 All-Star game, Lillard and Bryant were both selected for the Western Conference team. But Lillard barely got to play eight minutes and was left disheartened.
Bryant noticed and went to speak to the young star. "You f—ing belong here [as an All-Star]. You're right where you're supposed to be with everyone here. You're an All-Star. Just keep working young fella."
Lillard has gone on to make five more All-Star appearances and has been selected in the All-NBA team four times as well. Despite having no team success, he is staying at Portland, fighting to take them to the next level. In the bubble, he is doing just that.
The Blazers were given an outside chance to make the playoffs, and now they are very close to making it. They play against the Mavericks next and will be hoping to keep their momentum going.
Sources:
ADVERTISEMENT
Article continues below this ad
ADVERTISEMENT
Article continues below this ad