Memphis Rookie Ja Morant Earns A New Fan in Western Conference Rival
Published 08/04/2020, 1:53 AM EDT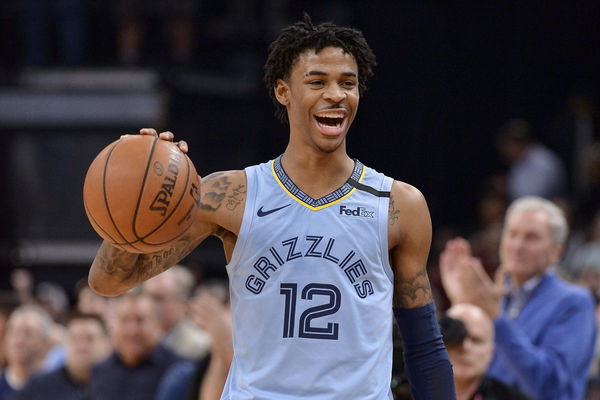 Memphis Grizzlies' young sensation Ja Morant is on course to grab the Rookie of the Year award. With an excellent first campaign including 17.8 points and seven assists, he has been a joy to watch. He has been the main force behind the Grizzlies run to make their first playoffs since 2017. He has earned a lot of fans for this, including a rival player from the Western Conference.
Morant, who has always been active on Twitter, replied to a fan who appreciated him. Then later, Portland Trail Blazers big man Jusuf Nurkic replied to Morant's tweet and said he was a big fan of the 20-year-old.
Don't let someone who has done nothing tell you how to do something lol
U special @JaMorant big fan ✊🏻

— Jusuf Nurkić (@bosnianbeast27) August 4, 2020
ADVERTISEMENT
Article continues below this ad
Ja Morant: Making Memphis great again
Despite having a solid team in the early 2010s, the Grizzlies were never able to get their hands on silverware. Their Grit N Grind team consisting of Mike Conley, Tony Allen, Zach Randolph, and Marc Gasol, they could only go as far as the Conference Finals. In the 2012-13 season, they achieved that only to get swept by the San Antonio Spurs.
With this new crop of young and exciting players, the Grizzlies can be a team to watch out for in the coming years. Aside from Morant, they have Jaren Jackson Jr, Brandon Clarke, and Dillon Brooks, who have been promising this year. With time, they will only get better. And even though he's just the second youngest on the team, Morant has shown maturity beyond his years and has stepped up as a real leader.
Following a disappointing loss against the New Orleans Pelicans, the Grizzlies have now lost all three of their games in the bubble. And it's going to just get tougher for them now. The first three games were against below .500 teams and the next three are all against teams above .500. This includes a huge clash against the best team in the league, the Milwaukee Bucks.
But the Grizzlies have sprung some surprises throughout the season. They have had wins against the Clippers, Lakers, and the Rockets. So one cannot count them out. They may be young, but they have a lot of heart. Their next game is now against the Utah Jazz, who have also lost their last two games. So this Western Conference matchup will one to keep an eye out for.
ADVERTISEMENT
Article continues below this ad
Sources:
ADVERTISEMENT
Article continues below this ad
Ja Morant on Basketball Reference