Real Madrid Names Dallas Mavericks' Luka Doncic and Carlos Sainz as Honorary Club Members
Published 03/24/2021, 1:47 PM EDT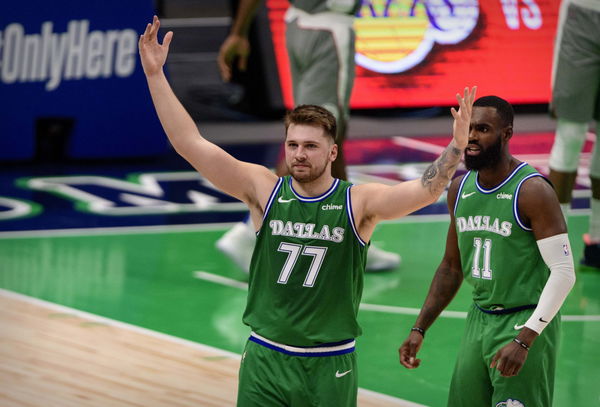 ---
---
Dallas Mavericks star Luka Doncic is currently one of the best players in the country. Before he arrived in the NBA, Luka was tearing up the EuroLeague while playing for Real Madrid. Despite being a teenager, Doncic showed he was a star in the making.
ADVERTISEMENT
Article continues below this ad
After spending almost seven years with them, Real Madrid is now going to honor their former star. In their latest announcement, they have named Doncic as an honorary club member, which is the highest distinction awarded by the club. During his career with them, Doncic helped the team win seven trophies in over 200 games.
Along with Doncic, former Spanish rally driver Carlos Sainz was also named as an honorary club member. With 26 wins and two titles in the World Rally Championship, Sainz had a legendary racing career. A lifelong Real Madrid fan, Sainz had a tryout for their soccer team as a teenager. He also ran for vice-president at the club but was unsuccessful.
ADVERTISEMENT
Article continues below this ad
So this was a beautiful sign of appreciation from the Real Madrid Board of Directors led by Florentino Perez.
Looking back at Luka Doncic and his time with Real Madrid
Son of a basketball player and coach, Doncic picked up the sport early. He immediately became a star with his hometown team, Union Olimpija. After proving he was too good to be playing with kids his age, Doncic signed with Real Madrid as a 13-year-old in September 2012.
Doncic played with their u-18 and reserve teams for the first three years and only made his professional debut in April 2015. He was just 16, thereby becoming the youngest player to play for the club. He had a slow start and was a role player in his first two seasons.
ADVERTISEMENT
Article continues below this ad
But when he got the opportunity in the 2017-18 season, Doncic made the most of it. He went on the EuroLeague MVP that season and won multiple trophies for the team. So after four successful seasons, Doncic announced he would leave for the NBA in 2018. His exploits abroad didn't go unnoticed, and the Atlanta Hawks drafted him with their third pick, before trading him to the Dallas Mavericks.
Doncic successfully translated all the hype he brought in and went on to win the NBA Rookie of the Year in 2019. Currently in his third season in the league, Doncic has already become an MVP candidate and is likely to become an all-time great.
ADVERTISEMENT
Article continues below this ad