'Robbed Without a Gun': Damian Lillard and NBA Stars React to Devin Booker's All-Star Snub
Published 02/24/2021, 1:04 AM EST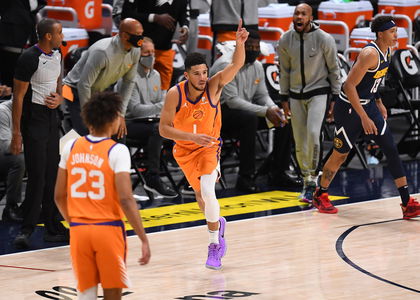 ---
---
Last season, Phoenix Suns star Devin Booker almost got snubbed from the NBA All-Star game. Later, Damian Lillard backed out because of an injury, and Booker got a well-deserved first appearance. This season, Booker has been snubbed once again, as the NBA announced the All-Star reserves list without him on it.
ADVERTISEMENT
Article continues below this ad
However, Booker will feel that he deserves a spot. Not only because he has been having an excellent season, but also because players around the league are expressing their discontent regarding his exclusion.
The biggest name talking about Booker's exclusion is Lakers star, LeBron James. Other NBA stars who tweeted about Booker include Hall of Famer Reggie Miller, Draymond Green, and CJ McCollum.
ADVERTISEMENT
Article continues below this ad
Devin Booker is the most disrespected player in our league!!! Simple as that.

— LeBron James (@KingJames) February 24, 2021
Don't get mad Devin Booker, get EVEN!! Make a hit list, put all the West Coaches and their teams on it! And if I'm @CP3, take on the role of Drew "Bundini" Brown, be in his ear before every game saying "I bet he didn't vote for you either". Fireworks are coming, I'm popcorn ready

— Reggie Miller (@ReggieMillerTNT) February 24, 2021
Book not an all star? 🤣🤣🤣🤣 the foolery….. Stop it!!!!!!!!!!

— Draymond Green (@Money23Green) February 24, 2021
Damn @DevinBook really didn't make it ? That's craxy . Bruh really cold too smh. Sick world

— CJ McCollum (@CJMcCollum) February 24, 2021
… you telling me DBook ain't AllStar??!! 😳 come on.

— Ricky Rubio (@rickyrubio9) February 24, 2021
How the Hell is @DevinBook not an ALL STAR?!!!!
Come on bruh!!!!! Stop with the politics!!! We all see it!!!!

— Jared Dudley (@JaredDudley619) February 24, 2021
Bro how tf Devin Booker ain't make it???? Please stop the 🧢

— JR Smith (@TheRealJRSmith) February 24, 2021
D Book has been robbed without a GUN… this is unacceptable… Period

— DeMarre Carroll (@DeMarreCarroll1) February 24, 2021
Lillard also spoke about this during an interview. He said, "It was disappointing not to see Devin Booker on there… I definitely think Devin Booker should have had a spot on that roster. To me, that's out of control. Come on, that's crazy."
What more does Devin Booker have to do to earn an All-Star spot?
Booker also missed out on the All-Star game in 2018 and 2019, despite having a good season. When that happened, the narrative was that he needed to be on a winning team. But now, when he is leading the Suns to one of their best seasons in a decade, and is also averaging 24.7 points and 4.3 assists, he has been excluded.
The Suns are cruising in the tough Western Conference and currently have a 20-10 record, and this record would have made them the #1 seed in the East. Chris Paul has been brilliant alongside Booker and deservedly got his All-Star nod. But Booker isn't doing anything different or wrong in comparison to him and still missed out.
ADVERTISEMENT
Article continues below this ad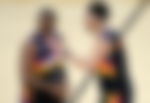 If so many NBA players feel this way about Booker's exclusion, it should have some impact on Adam Silver picking a replacement for Anthony Davis. The Lakers star is injured and might not feature at the All-Star game. That could be another chance for Booker, although he should have made it regardless of an injury to a selected player.
Booker should now follow Reggie Miller's advice. He should aim to prove people wrong for voting against him, by showing them his skills on the court.
ADVERTISEMENT
Article continues below this ad