NBA Analyst Defends Lakers' Anthony Davis Over His Comments Calling Kobe and Jordan as GOATs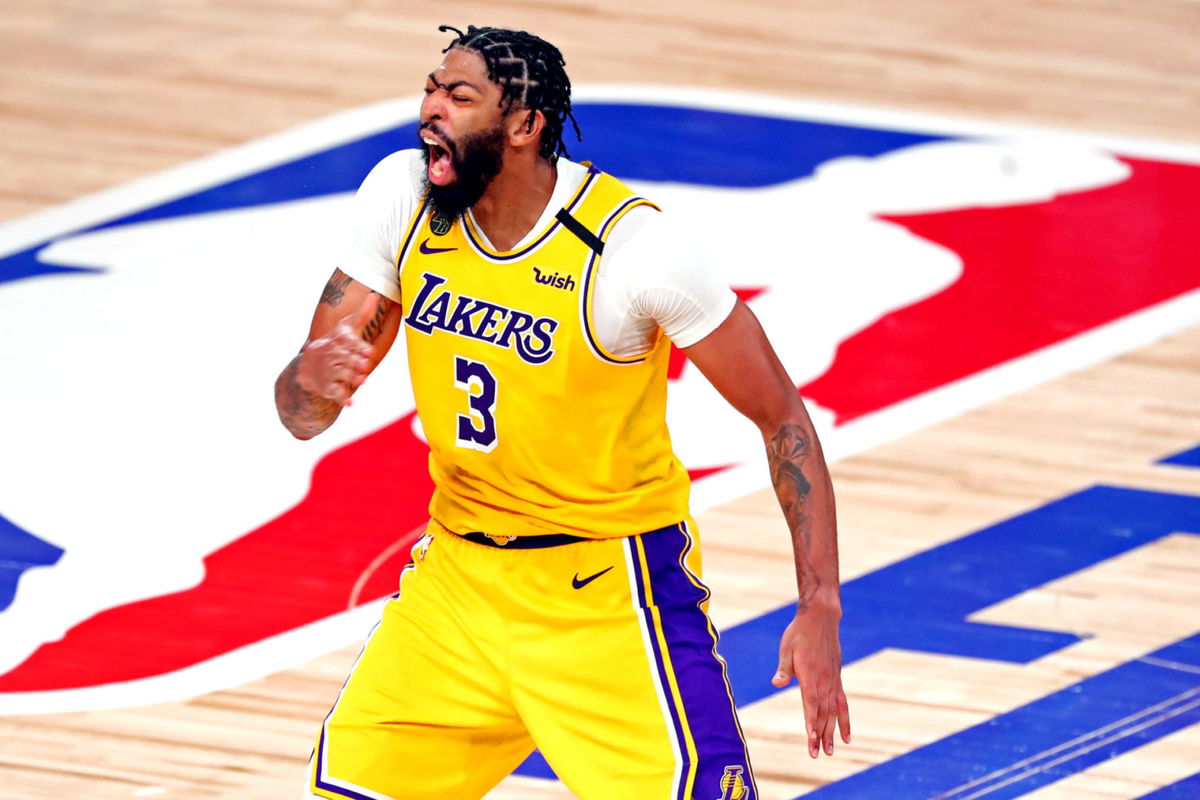 During Game 6 of the NBA Finals, Lakers star Anthony Davis wore the classic Kobe 5s but with a twist. The Chicago native wore an Air Jordan inspired colorway.
Talking about those shoes, he recently said, "It felt great to represent Chicago in a Kobe 5 – two GOATs. It was a great moment," addressing Kobe Bryant and Michael Jordan as the GOATs.
ALSO READ- Lakers' Anthony Davis Details Why He Sticks to Wearing Kobe's Over Anything Else
Anthony Davis honored the great ones with his Game 6 sneakers 🏆 @AntDavis23 pic.twitter.com/iZUJ9eXSWW

— B/R Kicks (@brkicks) October 13, 2020
Upon hearing this statement, LeBron James' biggest critic, NBA analyst Skip Bayless immediately spun it saying it was "disrespectful to the man who showed Anthony Davis how to win a ring."
Co-host Shannon Sharpe immediately shot down these accusations. He said, "They were talking about sneakers. If you're from Chicago the Jordan shoe is the Bible, even if you're not from Chicago, because that is what started it all.
"Everybody loves the Kobes. …Just because someone says: 'Kobe is this & Jordan is that,' doesn't mean they're taking a shot at LeBron."
ALSO READ- DeMar DeRozan Confident Kobe Bryant Sneaker Line Will Be on Same Level as Jordans
Do the Lakers need to worry about this?
To answer it in two words, absolutely not. AD and LeBron are two of the closest friends in the NBA currently. Since he was traded to the Lakers, Davis has maintained a very close relationship with LeBron. But last month, Davis revealed that he knew LeBron from way before the trade happened.
During his appearance on ESPN, Davis said, "Once I got in the league, I already knew Rich Paul in high school. So obviously, him and Bron were really close and I kinda knew Bron throughout the years, maybe my second year we got really close.
"And it has kind of just been a brotherhood from there. I also played with him in the Olympics in 2012, so I already knew him then as well… So, it was a friendship way before the trade."
After their 2020 NBA title victory, LeBron told Davis that the Lakers are now his team. That just reiterates the bond that these two superstars share.
Both of them are incredibly talented and compliment each other's playing styles on the court. As the NBA circus buckles down for yet another season of action in 2021, the Lakers will be praying for this dynamic duo to lead them to a title yet again.
ALSO READ- Lakers Guard Danny Green Weighs in on the LeBron James vs Kawhi Leonard Debate
Get notified about breaking news and watch highlights on the go; join the Arena on NBA Hoops