Shaquille O'Neal and Former NBA Players React to Warriors' Draymond Green Calling Himself the GOAT Defender
Published 03/24/2021, 12:13 PM EDT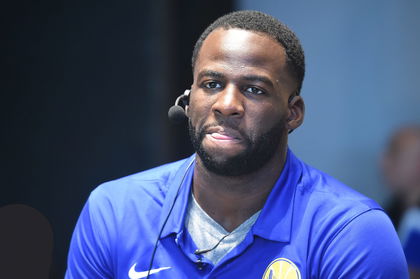 ---
---
Calling yourself the best has often been frowned upon in the NBA. LeBron James received a lot of flak when he called himself the best player in history. But surprisingly, the reactions have been contrasting after Golden State Warriors' Draymond Green made a similar statement.
ADVERTISEMENT
Article continues below this ad
During a recent interview, Green called himself the best defender of all-time. I think I'm the best defender to ever play in the NBA. I stand by that, I'd put myself up against anyone," he said.
While discussing this statement on the latest NBA on TNT episode, Hall of Famer Shaquille O'Neal and WNBA star Candace Parker defended Green. "I like players that talk about themselves that way. If he feels that way, he has G-14 Classification to say that," Shaq said. Parker agreed with him and called Green "the most complete Defensive Player of the Year."
ADVERTISEMENT
Article continues below this ad
Joining them is former NBA champion Metta World Peace, who is also a former DPOY himself. He also appreciated Green's passion, saying he is entitled to feel that way.
https://twitter.com/MettaWorld37/status/1374586686500339712
Three players defend Draymond while two others feel the Warriors star shouldn't say that
Draymond has got the backing of three great players in Shaq, Parker, and World Peace. But two others are not pleased with this statement.
While Shaq and Parker had no qualms with Draymond's statement on the show, the other guest Chris Webber didn't take it too well. He gave props to Draymond for his ability and agreed he might be the best player in the game currently. However, he was not on board for the 'all-time' part of Draymond's statement.
Immediately after this statement popped up on Twitter, former NBA champion Tony Allen tweeted out his displeasure. He had one question to ask- "Who stamped you?"
No other player in the game has called Draymond the best ever to play the game. He is the only one who has said it so far. So Allen asks who has given Draymond the stamp for him to say that. Allen has received the stamp from Kobe Bryant and Kevin Durant, two of the greatest scorers of all-time. There is no greater approval needed.
ADVERTISEMENT
Article continues below this ad
Draymond replied to him by pointing out how the Warriors left Allen open during their 2015 first-round playoff battle, which is completely irrelevant. Allen had another fitting reply for Draymond as he mentioned how the rest of the league is doing exactly that against Draymond now.
ADVERTISEMENT
Article continues below this ad
Draymond had no reply after that. And it is likely to stay that way.