'Some Bullsh*t': Former NBA All-Star Reveals How Michael Jordan Intimidated Him in Their First Matchup
Published 06/22/2021, 2:27 PM EDT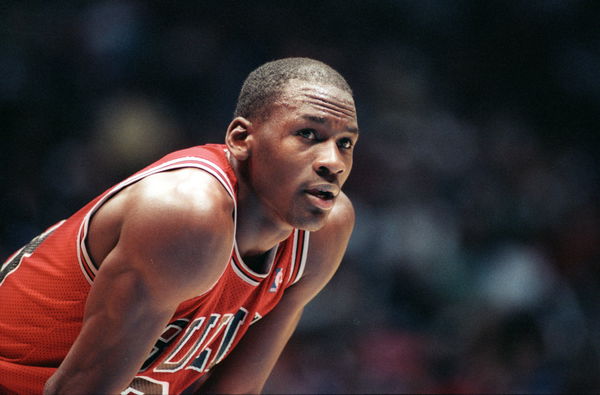 ---
---
Chicago Bulls legend Michael Jordan is arguably the best player of all-time. Although he could easily beat his opponents with just his skill, he also liked to get into their head with his trash talk. So that gave him an additional advantage over his opponents.
ADVERTISEMENT
Article continues below this ad
During a recent podcast, former NBA All-Star Larry Johnson talked about the first time he met Jordan. It was before a game, and MJ started his trash talk right then. Johnson said, "(MJ) did some bullshit. The first time we met, he walked out on the court and walks straight up to me and goes 'How's Dorothy'. That's my mom… I couldn't play the whole game. I think I scored 8 points. He got me."
The encounter Johnson is referring to is probably from his rookie season when he played Jordan's Bulls on November 13, 1991. Although he had 14 points, six more than he thought, it was an awful night for him. He shot just 5-13 from the field.
ADVERTISEMENT
Article continues below this ad
Jordan on the other hand, had a casual 35 point game, while shooting 11-19 from the field. The Bulls dominated the Hornets and won by 22 points. And with that, Johnson got his first taste of Jordan. The two had many battles later on too, but MJ came out on top most of the times.
But off court, MJ set aside his rivalry with Johnson to work with him on Space Jam. Johnson was among the star cast of NBA stars to join Jordan for the movie.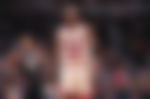 When Michael Jordan ruined Larry Johnson's teammate Muggsy Bogues' career
Jordan's trash talk was spread across to almost everyone on the opposing team. Once while facing Larry Johnson and the Hornets, MJ came up against their point guard Muggsy Bogues. Jordan reportedly then said, "Shoot the ball, midget," to the 5'3 guard. And he missed.
ADVERTISEMENT
Article continues below this ad
The popular story is that, that miss ruined Bogues' career. But earlier this year, Bogues put an end to these rumors. He said, "I supposedly missed, and that supposedly had an effect on my entire career? That's one of the craziest, most asinine stories that you can hear. It doesn't make any sense."
Although he played a few more seasons after that incident, there was no doubt he had declined after that. Jordan has ruined careers by denying rings to many players and it looks like he did it in such manner too.
ADVERTISEMENT
Article continues below this ad
WATCH STORY HERE – Stephen Curry, Dwight Howard & Other NBA Players You Didnt Know Were Proud Fathers