'Steph Get You a Ring': Fans Call Out Nick Young for Criticizing Former Warriors Teammate Stephen Curry
Published 03/04/2021, 12:00 PM EST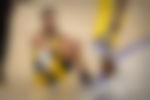 ---
---
Golden State Warriors lost to the Portland Trail Blazers to lose their second game in a row. Despite Stephen Curry scoring 35 points, the Warriors narrowly lost by two points.
ADVERTISEMENT
Article continues below this ad
While he made a lot of big shots throughout the game, Curry had two costly misses in crunch time. Most of the fans blamed the loss on a contentious call later in the game, however, former Warriors player blamed Curry. He tweeted asking NBA fans if they were going to let Curry "slide" for his miss.
We gonna let Stephen slide with that turn around miss for game lol

— Nick Young (@NickSwagyPYoung) March 4, 2021
ADVERTISEMENT
Article continues below this ad
If he was trying to provoke, he got what he wanted. Fans got annoyed at him in the replies and called him out. The most common replies were from Warriors fans who were reminding Young that the only ring in his career came because of Curry. Without that 2018 ring with the Warriors, he would have ended his 14-year career with zero accolades.
Didn't Steph get you a ring

— it's_Deejay (@it_deejay) March 4, 2021
Although Young's point makes some sense, the Warriors wouldn't have been in the game had it not been for Curry. There is no doubt Curry should have scored at least once from those two missed attempts. But he is also human and deserves a break, especially considering how he is already playing at an MVP level to keep the Warriors' playoffs hopes alive.
Carmelo Anthony praises Stephen Curry after the game
They may have won the game, but Blazers' veteran Carmelo Anthony would not leave without giving credit to Curry for how he is a focal point, and also how he is fun to watch.
"The way the game is now, this is his pace," Anthony said. "He's a focal point, and he's going out there, and he's putting that team on his back. He's out there sometimes, you're in awe watching him play, the shots that he makes, the shots that he takes. It's just great to watch."
STEPH MADE THIS!?!? 🤯 pic.twitter.com/PqTCC0i8Lv

— Warriors on NBCS (@NBCSWarriors) March 4, 2021
What seems ridiculous to others, Curry does on a nightly basis. The step-back three is now a common weapon in a shooter's arsenal, but Curry takes his rendition to another level. He makes the defender dance along with him first, before sliding back smoothly and draining the three-pointer. He does it multiple times in a game, but defenders still have no clue how to stop him.
Dance on 'em, Steph pic.twitter.com/HNLp0Gvz7G

— Warriors on NBCS (@NBCSWarriors) March 4, 2021
ADVERTISEMENT
Article continues below this ad
Warriors fans will hope he can do more of this tonight when they face the Suns, as they hope to end their losing streak.
This is where the Warriors lost the game. You just have to score here. Crazy stuff pic.twitter.com/pytQKD1PeM

— Drew Shiller (@DrewShiller) March 4, 2021
ADVERTISEMENT
Article continues below this ad