'That's Admirable': Rockets Coach Defends DeMarcus Cousins Following Technical Foul Against Lakers
Published 01/11/2021, 2:05 AM EST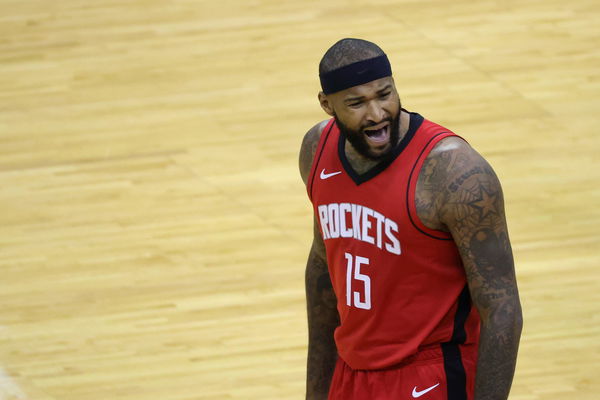 ---
---
The Houston Rockets failed to build on their previous win and fell to the Los Angeles Lakers tonight. They were humbled 102-120, after a defensive clinic by the Lakers. One of the reasons for their loss was DeMarcus Cousins getting the second ejection of his Rockets career.
ADVERTISEMENT
Article continues below this ad
During the first quarter, Boogie received a technical foul on Markieff Morris, before getting a flagrant for a foul on LeBron James. While the second one was harsh, he deserved the first one for shouldering Morris. But Rockets coach Stephen Silas was not upset about the first foul. Boogie only did it in retaliation to Morris doing the exact same thing to Rockets rookie Jae'Sean Tate.
Silas said, "He wasn't going to allow anything to happen to his rookie, and I think that's admirable. … Him sticking up for his teammate shows a lot of who DeMarcus Cousins is."
ADVERTISEMENT
Article continues below this ad
Can the Rockets' new arrival learn to keep his cool?
Although he might not have deserved an ejection tonight, Boogie is no stranger to it. Just a week ago, he got ejected against the Mavericks in just three minutes.
While there is no denying that he is a hot-head, it is a shame that he is wasting his opportunities now. He hasn't been this healthy for a long time. Last season the Lakers decided to give him an opportunity, but he was unable to feature for them. So they eventually released him, and he missed out on what could have been his first-ever ring.
This season, he has played five games for the Rockets, but he is barely averaging 12.5 minutes per game and is shooting an embarrassing 25% from the field.
ADVERTISEMENT
Article continues below this ad
He is obviously not the same player he once was following multiple injuries. But he still has the ability to play better than what he is doing currently. During the loss against the Pacers, Cousins reminded that he can be a big presence on the glass. Tonight, he started hot from three, going 2-4 before his ejection.
The Rockets have a promising big man in Christian Wood, who is having a brilliant season. If Cousins can step up and play his role properly, the Rockets will have a quality big man rotation.
ADVERTISEMENT
Article continues below this ad