"Basketball Thing Ain't for Me": Miami Heat Forward Jimmy Butler on How Close He Was to Quitting the Sport Forever
Published 09/16/2020, 6:30 PM EDT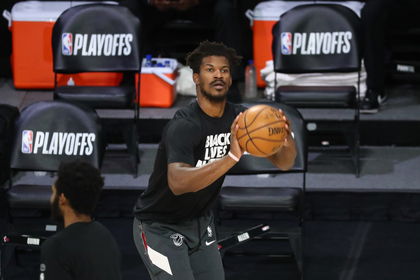 ---
---
Playing a sport for the fun of it is one thing, but competing at the highest level can at times take away that 'fun' element. It can be overwhelming to leave one's comfort zone and practice day-in-day-out to make a name and place. NBA stars are no strangers to this pressure, and even players like Jimmy Butler of the Miami Heat have admitted it.
ADVERTISEMENT
Article continues below this ad
Jimmy, as the world knows him, is an Olympic gold medalist (2016) who has been part of 4 NBA All-Defensive Teams and was named as the NBA's most improved player in 2014-15. He began his career with the Chicago Bulls and worked his way up to earn worldwide recognition with various teams interested in seeking his services. But he too saw some dark times in his past.
Jimmy Butler and his times at college
ADVERTISEMENT
Article continues below this ad
Jimmy G. Buckets played for Marquette University before making it into the NBA. He represented his university in 106 games, scoring at an average of 12 points per game with 50.8% FG and 38.3% 3P%. Have a look at a compilation of his play-
He was having a ball in those days because his on-court performance always remained on-point. But something was not right with him inside of his mind. He detailed his saddest times in an interview where he stated, "I would probably say when I wanted to quit Basketball forever, at Marquette. And I was like, Yeah, you know what? This Basketball thing ain't for me.
"I wish I would have had a journal then to get it all out instead of just talking to myself in the dark. I was like, 'Man, I don't know what to do, who to talk to, who can relate'."
Jimmy then explained the reason he felt troubled. "You're so far away from home, and to tell you the truth, I didn't do no research. I didn't know that it snowed. [I] didn't know that it got cold. I didn't know anything. So I went up there like I was still in Texas: Basketball shorts, T-shirts, flip-flops.
"The one person that did help me, though, I will tell you this, Joe Fulce. We went to Maquette together. So it was like, whenever we had a problem, we're each other's, kinda, coping mechanism. The fact that you just had somebody to listen to definitely helped." 
ADVERTISEMENT
Article continues below this ad
This Miami Heat star carries a tough personality
The five-time NBA All-star has done an impressive job for his franchise so far. He is a well-rounded forward who is good at both the ends of the court. His aggressive style of play, coupled with an innate leadership quality, has kept the Miami Heat playing big in the NBA 2020 post-season. 
He also has one another part of him playing at the court. At times, he is a little too aggressive and his feud with TJ Warren and a couple of other players is proof. Many people think of him as a toxic player. But Jimmy with his personality is pretty cool with that. He cares less about what people perceive about him and likes to live by his own standards.
ADVERTISEMENT
Article continues below this ad
The man is not someone who will like to win every heart that is laid out there to win. His traits have by far served him well, and it remains to see when he lifts an NBA title and shows the world that he is 'less talking and more doing'.