'Baguette Biyombo': Shaquille O'Neal Continues His Slander, Despite Rudy Gobert's Efforts to End Beef
Published 01/06/2021, 6:16 AM EST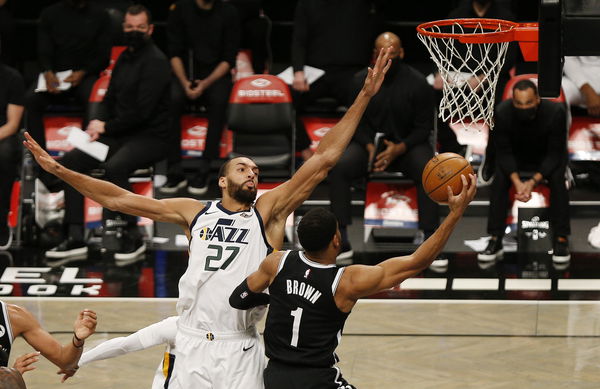 ---
---
Hall of Famer Shaquille O'Neal is infamous for starting fights with current-day NBA centers. It started with JaVale McGee and was followed by Joel Embiid and Dwight Howard. The latest player to receive unwarranted hate from O'Neal is Rudy Gobert.
ADVERTISEMENT
Article continues below this ad
It started with a random Instagram post by Shaq, where he said he would dominate Gobert. The Frenchman replied to the post saying, "I guess we'll never know," with laughing emojis. But before the matter could escalate, Gobert cleared up on Twitter that there is no beef.
There is no beef. If people wanna keep speaking negatively about me or keep discrediting what i do it's on them and all that does is show who they are. I will always be happy for a brother beating the odds. And i'm gonna keep beating the odds. https://t.co/l241ZQ2Qk4

— Rudy Gobert (@rudygobert27) January 4, 2021
ADVERTISEMENT
Article continues below this ad
The latest development in this beef is Shaq retweeting a tweet where someone called Gobert "Baguette Biyombo."
The original tweet had the clip of Gobert being blocked at the rim By Jarrett Allen. The Nets center is famous for his fearless blocks, and Gobert was unfortunate to end up on the wrong end of the highlight. Despite being a two-time Defensive Player of the Year, Gobert is often disrespected on social media.
Tough loss for Rudy Gobert and the Jazz
The Jazz arrived in Brooklyn on the back of two consecutive wins. They were resilient in their first win against the Clippers and won by four points. They followed it up by a huge 21 point away win against the Spurs. So they were in good form prior to this game.
Donovan Mitchell was the only player fighting while all the other Jazz players struggled. Both Gobert and Conley shot 3-10 from the field. The veteran point guard was their best scorer prior to this game, so him switching off was a problem for the Jazz.
ADVERTISEMENT
Article continues below this ad
Bojan Bogdanovic had four points in 27 minutes and looked out of touch. After scoring 28 points in their previous game, the Nets kept him in check last night. Jordan Clarkson, their scorer off the bench, also had an inconsistent night, shooting 5-13 from the field. With so many players struggling to score, the Jazz couldn't prevent the loss.
The Jazz is in for another tough game tonight against the New York Knicks. They are one of the most in-form teams in the league currently after starting 0-2. The only positive from this game was the return to form for Mitchell. They need a consistent performance from the team tonight to get a win.
ADVERTISEMENT
Article continues below this ad