'Was a Scapegoat': Former Teammate Reveals How Stephen Curry Struggled in His Sophomore Season
Published 05/25/2021, 6:00 PM EDT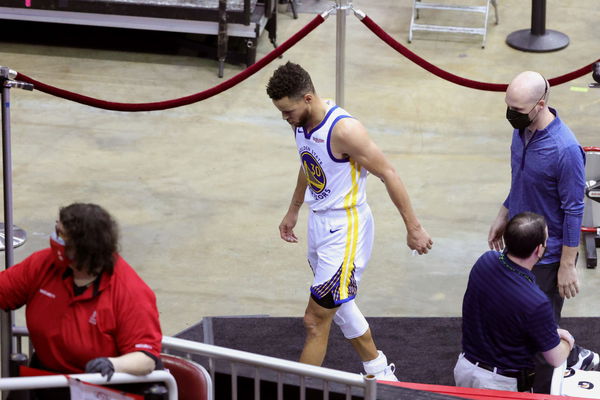 ---
---
The Golden State Warriors season is over. They failed to make the playoffs, but Stephen Curry showed he is still one of the best in the league. He carried the Warriors on his back all season and also is in an MVP candidate. But things weren't so comfortable for him when he entered the league.
ADVERTISEMENT
Article continues below this ad
In a recent interview, his former teammate Jeremy Lin revealed Curry's struggles in his sophomore season. He said, "Steph in his second year was getting benched a lot. And he talked about it. He was really going through it and was getting jerked back and forth in terms of playing time."
"I felt terrible for him because he was still averaging 18 points per game. It felt like he was a scapegoat. On top of that, he started to struggle with his ankle. It was a really tough year for him." 
ADVERTISEMENT
Article continues below this ad
While Curry started each of his 74 games, Lin might be referring to in-game benching. Despite being the second-best scorer on the team, the Warriors poster boys at that time were Monta Ellis, David Lee, and Dorell Wright, as Lin said. If that wasn't bad enough, he was also dealing with ankle problems. So this made it tough for Curry early in his career.
How Stephen Curry overcame these problems to become a two-time MVP
At the end of his sophomore season, Steph needed surgery in the off-season. But in the following season, it only became worse. He played just 26 games due to injury and needed another off-season surgery.
Despite these concerns, the Warriors kept their faith in Curry and offered him an extension. In 2012-13, Curry dealt with problems all season but still managed to play 78 games. The Warriors then brought in Keke Lyles as the Director or Performance who helped Curry improve his training. That helped him a lot and made him more comfortable.
ADVERTISEMENT
Article continues below this ad
In 2013-14, Curry made his first All-Star game, and fans knew something special was on the horizon. In the next season, Curry won his first MVP award, and also led the Warriors to the title. He kept improving constantly, and that helped him to become a back-to-back MVP during the Warriors 73-9 season.
NEW YORK, NY – FEBRUARY 14: Stephen Curry attends State Farm All-Star Saturday Night – NBA All-Star Weekend 2015 at Barclays Center on February 14, 2015 in New York, New York. (Photo by Brad Barket/Getty Images)Although they lost the NBA Finals in that season, it showed the growth of Curry, who was once called glass ankles. He overcame all of these struggles to become one of the best point guards in NBA history.
ADVERTISEMENT
Article continues below this ad