Washington Wizards' Davis Bertans Calls NBA 2K Out For Ridiculous Ratings
Published 12/08/2020, 2:07 PM EST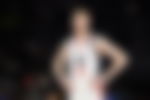 ---
---
Whenever NBA 2K announces ratings, players are bound to get upset. The latest player to jump on the bandwagon is Washington Wizards sharpshooter Davis Bertans, who was left fuming by NBA 2K21 because of his three-point rating.
ADVERTISEMENT
Article continues below this ad
Overtime shared a picture on Twitter that had the Top-10 shooters from NBA 2K21. They were ranked according to their three-point rating.
However, the man who shot 42% from three on a ridiculous 8.7 attempts per game was nowhere on the list. So when fans reminded him about it, he tweeted 2K.
ADVERTISEMENT
Article continues below this ad
People keep tagging me in this @NBA2K
I guess i can't shoot as good as these guys 👀 https://t.co/gr7t3n8ijD

— Dāvis Bertāns (@DBertans_42) December 6, 2020
From the time he joined the NBA in 2016, Bertans has proved that he is one of the most reliable outside shooters. In his 4 seasons in the league, he is averaging 41% from three on 4.5 attempts per game.
He has been crucial for the Wizards. They proved this during Free Agency when they offered him a 5-year, $80 million extension.
While there is no doubt he should have been in that Top-10 list, there is another player who was snubbed.
Kings' Buddy Hield also snubbed like Washington Wizards' Davis Bertans
Sacramento Kings shooting guard Buddy Hield was another name that was missing from that list. Much like Bertans, he was not impressed and had the perfect GIF to remind 2K why he should have been among the top 10.
I Don't play 2k anyway But 🤐 pic.twitter.com/jkr5fO0FO9

— Buddy Love !!!! (@buddyhield) December 6, 2020
Earlier this year, Hield took home the Three-Point Contest Champion trophy during the All-Star weekend. Add to that a season of shooting 39% from three, on an absurd 9.6 attempts per game. Those are some of the best volume shooting numbers in the league. So this is another very surprising omission from the list.
ADVERTISEMENT
Article continues below this ad
What makes this list laughable is that Derrick Walton Jr, who is placed at 8th on the list, attempted just 24 attempts from three in the 2019-20 season. While he may have shot 41%, that volume is incomparable to someone like Bertans or Hield.
Number 7th on the list is Matt Thomas, who also is a low volume shooter and has attempted just 99 threes all season. He also shot an impressive 47% but there is no proper criterion for 2K's ratings, which makes this very confusing.
ADVERTISEMENT
Article continues below this ad
One can only hope that as the new patches come in, these players are given the ratings that they deserve.