WATCH: Mavericks' Luka Doncic Pulls Off His Classic Fadeaway Over Kevin Durant To Seal The Win
Published 05/06/2021, 11:07 PM EDT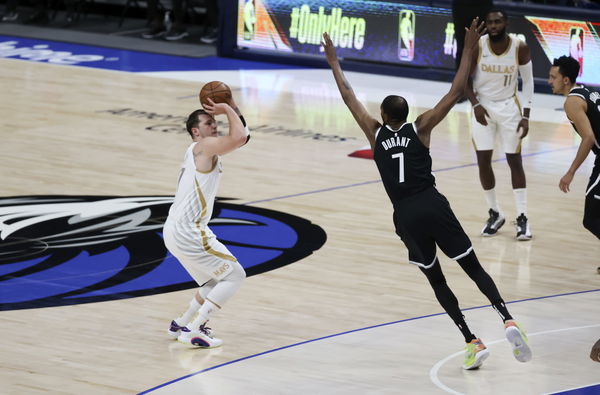 ---
---
Dallas Mavericks fans should be thanking the basketball gods every day for the 2018 Draft Night trade. They brought in Luka Doncic, who, since his arrival, has given the organisation a major uplift. Tonight, he proved his worth once again during their win over the Brooklyn Nets.
ADVERTISEMENT
Article continues below this ad
The Mavericks were missing their second best player in Kristaps Porzingis while going up against two of the best players in the league. That tilted the odds towards the Nets, but Doncic was determined to get the upset. Although he struggled throughout the game, he stepped up in the clutch.
With a minute left to go, the Mavs were leading by four points. They needed a bucket, which would virtually seal the game.
ADVERTISEMENT
Article continues below this ad
Doncic took responsibility despite missing 15 of his 21 shot attempts. After iso-ing against Kevin Durant, he dribbled a bit to find the best shot. Eventually, he pulled off the one-legged fadeaway and buried it.
He has learnt the move from his former teammate Dirk Nowitzki, who was the master of it. The German was actually in the building watching the game, so it made it even sweeter for Mavs fans. The apprentice pulling off the master's moves to win the game while he watches from the audience is as poetic as it gets.
Can Luka Doncic and the Mavs stay out of the play-in zone?
The Mavericks have not performed to their full potential this season. But the struggles of the other Western Conference teams have bailed them out.
They started this week tied with the Lakers and Blazers at 36-28. They had to be among the top two teams out of the three in order to avoid the play-in tournament.
The Mavs started the week with a terrible loss against the depleted Kings but have bounced back strongly since then. They beat the Heat convincingly on Tuesday with Doncic taking a back seat. And now, they have secured another important win tonight, which helps them to grab the fifth seed as it stands.
ADVERTISEMENT
Article continues below this ad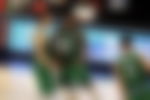 They have five games left and it should be a breeze for them. They face the Cavs twice in a row, followed by games against the Grizzlies, Pelicans and the Raptors.
Doncic and the Mavs can easily finish as the fifth seed and stay out of the play-in zone. This could set up a rematch against the Clippers in the first round and the Mavs will hope for revenge if it happens.
ADVERTISEMENT
Article continues below this ad