WATCH: Nuggets' Nikola Jokic Shows Zion Williamson Who is the MVP
Published 04/29/2021, 12:14 AM EDT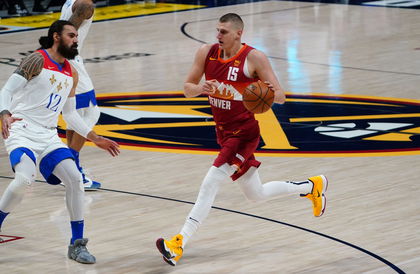 ---
---
The NBA MVP race is heating up as the regular season is coming to an end. It is widely assumed that Denver Nuggets star Nikola Jokic is on his way to win it. Tonight, he proved why he deserves it once again.
ADVERTISEMENT
Article continues below this ad
The Nuggets beat the Pelicans tonight, in a thrilling 114-112 win. It came down to the final few seconds when Jokic stepped up to ensure the win. Usually he does that with a clutch shot, or even an amazing assist. But tonight he did it with his efforts on the defensive end.
With less than 10 seconds left to go, the Pelicans were trailing by two points. Eric Bledsoe brought the ball into the Nuggets half court before handing it off to Brandon Ingram. The reigning Most Improved Player then a smart pass to Zion Williamson who was about to dunk and tie the game.
ADVERTISEMENT
Article continues below this ad
Jokic showed incredible defensive awareness as this play happened. Just as Zion leaped for the dunk, the Serbian swatted it away to kill the Pelicans chance of taking it to overtime. Blocking Zion is as tough as it gets, but to do it from behind while being that close to the rim is unbelievable. Jokic has often been criticized for his lack of effort on the defensive end, but this was a perfect highlight for those critics.
Is Nuggets star Nikola Jokic on his way to the MVP?
After barely being above .500 at one stage, the Nuggets are now just 3.5 games behind the #1 seed. They have been fantastic since then, and a lot of the credit goes to Jokic.
The Joker is currently averaging 26.3 points, 10.9 rebounds and 8.7 assists per game. Those are ridiculous numbers, especially considering he is a center. In a league that is dominated by athleticism, Jokic is killing his competition with his outrageous skill.
ADVERTISEMENT
Article continues below this ad
For the first half of the season, many felt that 76ers' Joel Embiid was the MVP. But Jokic has silently worked his way to the top and has now taken over the ladder. The Nuggets currently have a 41-21 record and the best part about it is that they have gone 7-1 since their second-best player Jamal Murray got injured.
If the Nuggets continue this excellent form, it will be a crime to not award the MVP award to Jokic.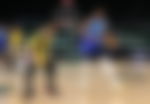 ADVERTISEMENT
Article continues below this ad