WATCH: Donovan Mitchell Maintains His Class Despite Shaquille O'Neal's Insulting Remarks
Published 01/22/2021, 7:30 AM EST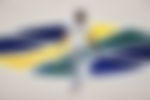 ---
---
The Utah Jazz are on a roll. Last night, they won their 7th game in a row, as they overcame the Pelicans 129-118. Donovan Mitchell was once again the star of the show, and he led the Jazz to the win.
ADVERTISEMENT
Article continues below this ad
But despite this excellent display, Hall of Famer Shaquille O'Neal had some unpleasant remarks for Mitchell. During the post-game interview, Shaq told Spida that he doesn't think Mitchell has what it takes to get to the next level. But Mitchell was calm as ever and replied with one word: "Alright."
Just weeks ago, Shaq had unnecessarily gotten into internet fights with Mitchell's teammate Rudy Gobert. So keeping that in mind, he stayed respectful and had a mature response. Later Mitchell added, "I've been hearing that since my rookie year. I'm just going to get better and do what I do."
ADVERTISEMENT
Article continues below this ad
Donovan's response when Shaq tells him he doesn't have what it takes to get to the next level:

"Aight." pic.twitter.com/t64PxpeTFD

— SportsCenter (@SportsCenter) January 22, 2021
Non-superstar Donovan Mitchell continues to do what he does best
Mitchell entered the NBA as a two-way scoring threat. But once he entered the league, he enhanced his scoring skill-set and has been continuously improving.
Last night, he had 36 points, seven rebounds, five assists, while shooting 11-19 from the field and 6-8 from three. With Brandon Ingram piling on the points from the other end, Mitchell's scoring kept the Jazz in the game and eventually helped them to win.
Mitchell was a slightly above average shooter in his first three seasons, but this season, he has notched it up a level. He is currently shooting 38% from three, despite averaging 8.7 attempts per game. And after last night's show from the three-point line, he became the fastest player to make 600 threes in the NBA.
Donovan Mitchell is the fastest player in NBA history to make 600 threes (240 games). Previous fastest was Buddy Hield. pic.twitter.com/MvTl2ioJwQ

— NBA.com/Stats (@nbastats) January 22, 2021
ADVERTISEMENT
Article continues below this ad
Although he may not be a #1 option on a championship at the moment, Mitchell is quietly doing his best to keep the Jazz relevant. They have won seven games in a row due to his heroics. This run also includes big wins against the Bucks and the Nuggets. This is why he is unperturbed by Shaq's remarks and is just focusing on getting better.
Gobert also chimed in, saying that they don't care about what the others think. He said, "Whatever they want to call us, if we keep winning games, they're gonna have to keep watching us. … Maybe all the way until July."
ADVERTISEMENT
Article continues below this ad