WATCH: Giannis Antetokounmpo Banks in an Audacious Buzzer-Beater to Seal Off a Monster First Half
Published 01/08/2021, 9:37 PM EST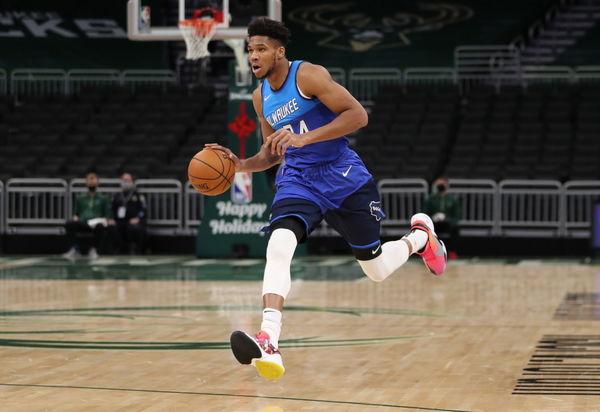 ---
---
The Milwaukee Bucks arrived at the Finserv Forum tonight in a bid to keep their winning streak alive. On the other hand, opponents Utah Jazz are looking to put an end to their losing streak. They are doing their best, but Bucks star Giannis Antetokounmpo is on a mission to not let that happen.
ADVERTISEMENT
Article continues below this ad
Just as half time was approaching, Giannis recovered the ball in their half. By the time he grabbed it in his hands, there were barely 2.4 seconds left. He then did his best impression of The Flash as he ran to make a final field goal. He then did a Stephen Curry as he banked in a buzzer-beater three to end the half.
ADVERTISEMENT
Article continues below this ad
With that three-pointer, the Greek Freak had 25 points by halftime. Giannis was 10-15 from the field and also shot 2-3 from three. He had to step up after teammate Khris Middleton was having a hard time and was shooting just 3-10 from the field. None of his other teammates managed to score in double digits.
Highlight-worthy game from Giannis Antetokounmpo
Although he won the DPOY award last season, Giannis is not a rim protector. He occasionally gets his blocks, but when he does, he makes sure they are highlight-worthy. Tonight, Jazz' Rudy Gobert was on the wrong end of this highlight.
The Frenchman approached the rim after a quick cut off a screen, but meeting him at the rim was the Greek Freak. Gobert's defender, Brook Lopez, was caught out of position and couldn't catch up, but Giannis successfully covered up.
ADVERTISEMENT
Article continues below this ad
The Bucks are currently 5-3 to start the season, and that is not at all how a contender would like to start. They had two wins in their first five games and were just starting to build some momentum. But these last three wins have come against weak opposition as the Bulls and the Pistons have been struggling all season.
ADVERTISEMENT
Article continues below this ad
They need this win badly as they attempt to reach the top of the East. They have been elite performers in the regular season for two years now, and they will be eager to keep that run going.