WATCH: Warriors Bench Goes Crazy After Stephen Curry Gets His Career-High Performance
Published 01/04/2021, 6:08 AM EST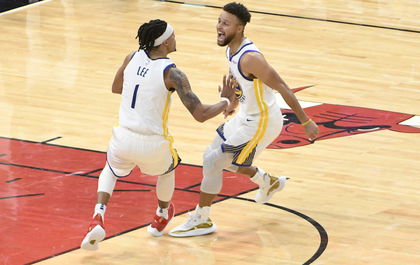 ---
---
When a player achieves a career-high, his teammates are bound to be happy for him. The Golden State Warriors bench was hyped last night when they saw Stephen Curry achieve a career-high 62 points.
ADVERTISEMENT
Article continues below this ad
After a bad run of five games where the Warriors slumped to a 2-3 record, Curry decided to step up. He was relentless with his scoring, and the Trail Blazers could do nothing to stop him. With less than 42 seconds left on the clock, Curry threw up a shot from the three-point line and fell over on the follow-through.
But he buried the shot, and with that, he reached 62 points. The Warriors bench went crazy and were ecstatic about their teammate's achievement.
ADVERTISEMENT
Article continues below this ad
The Warriors need to support Stephen Curry now
During last night's scoring clinic, Curry shot 18-31 from the field. He required just eight threes to get to 62 points, but it also included 18 free throws. Right from tip off, he decided to take matters into his own hands. In previous games, he has been forced to be the sole playmaker. But now, with Draymond Green back, his only focus last night was to score.
The team was thrilled with Curry's performance. But now they have to put in the work themselves and not just leave everything on him. He is bound to be exhausted soon, if he's expected to carry the team in this manner every other night.
Kelly Oubre Jr is still struggling to find his shot. He's averaging 6% from the three-point line and has been their worst player on offense. Andrew Wiggins is averaging 17.8 points, but because of his streaky shooting he is averaging just 39% from the field.
The 2nd overall pick James Wiseman started well, but has been unable to find consistency. Another aspect of his game he needs to improve is his rebounding. He currently just averages 6.5 rebounds per game, and one would expect more from a seven footer.
ADVERTISEMENT
Article continues below this ad
The Warriors play the Kings tonight, who have the same 3-3 record like them. They are also fighting for a playoff spot in the crowded Western Conference. So a win against them will be crucial for the Kings, as they hope to make the playoffs this season.
ADVERTISEMENT
Article continues below this ad