Watch: Warriors' Stephen Curry Submits Shaqtin' a Fool Entry With Rare Missed Layup
Published 04/28/2021, 12:56 AM EDT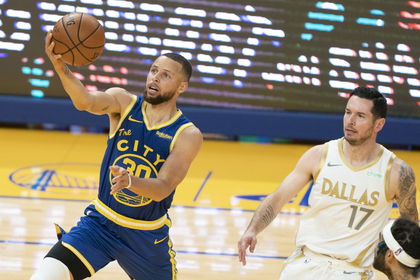 ---
---
The Golden State Warriors suffered one of their worst losses of the season tonight. They were blown out by the Dallas Mavericks, in what was an important game for them. A rare Stephen Curry lowlight in the second quarter summed up their performance.
ADVERTISEMENT
Article continues below this ad
Midway through the second quarter, Curry dribbled the ball into the Mavs half-court. As Dorian Finney-Smith tried to stop him, Curry beat him elegantly with a euro-step and went for an open layup. But in one of the rarest outcomes, Curry failed to score an easy layup. Despite no defender challenging him, he couldn't convert the freebie, and Kelly Oubre Jr missing an open putback on the follow-up just made it worse.
ADVERTISEMENT
Article continues below this ad
Although he ended the game with respectable personal stats, Steph's team was abysmal right from the start. So those back-to-back misses were a perfect representation of how the Warriors played – completely shocking basketball.
Curry finished the game with 27 points while shooting 9-18 from the field and 5-9 from three. Those are normal numbers for him, which means he did his job. But his teammates failed to support him.
Stephen Curry deserves better
Andrew Wiggins went 3-11 from the field and 0-4 from three and finished with 15 points. Kelly Oubre had 10 points while shooting 2-10 from the field and 2-7 from three. Jordan Poole went 3-14 from the field and 2-7 from three to make a trio of disaster class performances. Draymond Green had an impressive 11 rebounds, but he was a no-show on defense, and also had a whopping zero points.
The only player who showed up for the Warriors aside from Curry was Mychal Mulder. Although he scored 19 of his 26 points in the fourth when the game was already decided, he still did his best. He shot 10-16 from the field and 6-11 from three.
ADVERTISEMENT
Article continues below this ad
Curry will be eagerly awaiting the return of his Splash Brother, Klay Thompson, next season. After being out on the sidelines for two seasons now, Klay will also be raring to go and help the Warriors become a contending team once again. Right now they are struggling to be a playoff team.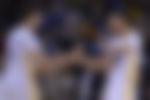 Even if the Warriors make the playoffs, they won't be able to go beyond the first round. And a first-round also doesn't seem certain since they are currently holding on to a play-in spot. So fans will just be hoping for the season to end soon so they can be put out of their misery.
ADVERTISEMENT
Article continues below this ad