WATCH: Warriors' Stephen Curry Toys With OKC Thunder Defense Before Draining Tough Three
Published 04/14/2021, 11:27 PM EDT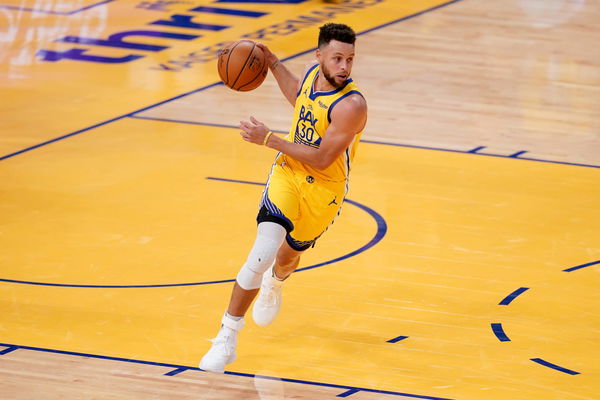 ---
---
The Golden State Warriors are going through a good run currently. After beating the Denver Nuggets on Monday, they cruised to a win over the Oklahoma City Thunder tonight. Unsurprisingly, Stephen Curry was the hero of the day for the Warriors once again.
ADVERTISEMENT
Article continues below this ad
During this blowout win, Curry had a brilliant performance, especially from the three-point line. The Thunder couldn't guard him, and he was toying with their defense in the limited minutes he played.
Late into the second quarter, Curry dribbled into the Thunder court, before dancing past three defenders to the three-point line. His last dribble was through his own legs before he had a quick release three-pointer that he buried in the defender's face. After sinking the shot, he made a face that said, 'this is too nasty,' even for his standards.
ADVERTISEMENT
Article continues below this ad
Curry has one of the best handles the game has ever seen, and tonight was another reminder. The Thunder defense was helpless and could only try to stop the two-time MVP.
Stephen Curry: Merciless
Despite all the criticism he has received this season, Curry has played like an MVP from the start. Tonight, he had one of his best performances of the season. The Thunder are one of the bottom teams in the Western Conference, but Curry showed no mercy.
He played just 29 minutes in the three quarters, but that was enough for him to score 42 points from just 20 shots. He went ballistic from three, shooting 11-16 from the three-point line, his second consecutive game with 10+ threes made.
There is no other player in the league who can do this, while also being so efficient.
Curry also contributed with his playmaking and dished out eight assists. This was a superb performance overall, and the Warriors scored 125 in three-quarters thanks to him.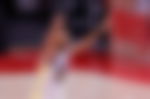 Warriors playoff hopes hanging on Curry
ADVERTISEMENT
Article continues below this ad
Tonight's win helped the Warriors to ascend to the ninth seed, overtaking the Spurs. After missing out on the playoffs last season, the Warriors are desperate to return to the postseason. They were supposed to be contenders once again this season; however, an injury to Klay Thompson dented their title hopes.
In his absence, many predicted that the Warriors wouldn't even make the playoffs. So, they are aiming to prove these critics wrong, as they slowly rebuild their legacy.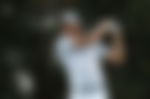 ADVERTISEMENT
Article continues below this ad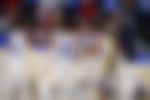 Trending Stories