WATCH: Warriors' Stephen Curry Trolls Klay Thompson For His Pregame Outfit
Published 04/10/2021, 9:28 AM EDT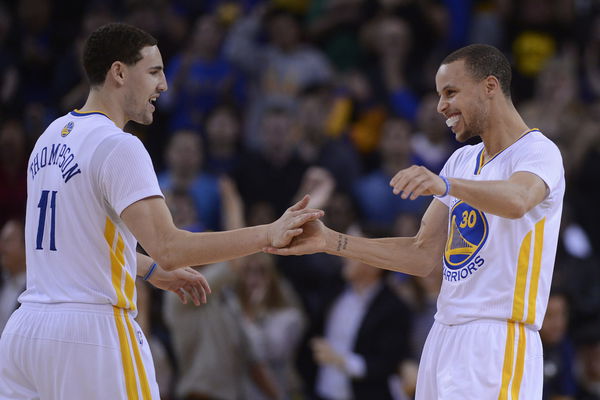 ---
---
The Golden State Warriors are struggling this season. Despite Stephen Curry playing on an MVP level, they are falling way behind on expectations. The absence of Klay Thompson is hurting them a lot on both ends.
ADVERTISEMENT
Article continues below this ad
While he isn't able to join them on the court, he has been everywhere with them off of it. He joined Curry before last night's game, who was happy to see him, but couldn't stop laughing at his outfit. With Klay behind him, Steph recorded an Instagram story where he sang the lyrics of 'I'm On A Boat' by The Lonely Island. Klay looked ready to go on a boat and Steph didn't spare him.
ADVERTISEMENT
Article continues below this ad
Although they're unable to entertain fans on the court, they're doing their best off-court. Warriors' fans loved this interaction and expressed it in the replies. A lot of them continued to talk about how much they miss Klay, while the others enjoyed the Splash Bros' chemistry. Both of them are universally liked, so a lot of rival fans also enjoyed the video.
Stephen Curry and Klay Thompson: Best backcourt of all-time?
The last time Curry and Thompson were on the court together was during Game 6 of the NBA Finals in 2019. That makes it 667 days, almost two years since they played together. Fans across the league are also upset to be unable to watch the best backcourt in the NBA play together.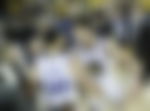 The Splash Brothers had a very similar background entering the league. Both are sons of NBA players. Both of them weren't highly recruited in high school and ended up having good college careers. Finally, both of them were lottery selections by the Warriors.
ADVERTISEMENT
Article continues below this ad
After making their debut as a duo in December 2011, Curry and Thompson slowly took over the league. They became the first teammates to be the starting guards in an All-Star Game since 1975. They also became the first backcourt to be part of the All-NBA teams in the same season since 1979–80.
There is no backcourt in the league with chemistry like theirs. While one could say anyone playing alongside Michael Jordan or Magic Johnson would make them a great backcourt, but there isn't any duo like Steph and Klay. They have gone to five straight Finals and have won three of them. That makes them arguably the greatest backcourt in NBA history, and they have a few more years to go as well.
ADVERTISEMENT
Article continues below this ad